M A I N N E W S
Jailed MLA in Maya Cabinet
Anand Sen Yadav, who was elected from Milkipur in Faizabad district, figures in the human trafficking scandal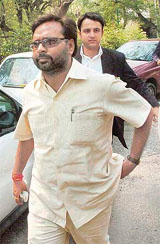 BSP MP Ashok Rawat arrive to appear before the crime branch of the Delhi Police on Monday for questioning in connection with the emigration scam. — PTI
Lucknow, May 14
Uttar Pradesh Chief Minister Mayawati might have declared she will "send all criminals to jail", but one of her hand-picked ministers is already in jail while at least 10 others face criminal charges.
The cat was out of the bag when the name of Anand Sen Yadav was announced as among the 19 ministers of state with independent charge. It was only after he failed to show up at the swearing-in on Sunday that it was discovered he was in jail.
Interestingly, no sooner than his inclusion in the Bahujan Samaj Party (BSP) ministry hit the headlines on various TV channels, the jail authorities hastily pulled him out of prison and got him admitted to a local hospital in Faizabad under the pretext of some ailment.
Anand Sen Yadav, who got elected from Milkipur in Faizabad district, is the son of Mitrasen Yadav, the BSP MP from Faizabad who figures in the recently exposed human trafficking scandal.
There are at least eight others in the 49-member Mayawati Cabinet who face charges for major or minor criminal offences, according to Election Watch, an NGO. One of them is Badshah Singh, who faces a dozen criminal cases, including those of murder, attempt to murder, extortion, kidnapping and rioting.
When a reporter sought his comments on the cases, Badshah Singh retorted: "It is not just a dozen; there are at least three dozen criminal cases registered against me." Badshah Singh, dreaded for his reputation in Hamirpur district in south Uttar Pradesh, is known as a brazen and arrogant politician whose actions always reflect his scant respect for the law.
Another minister with criminal track record is Awadh Pal Singh Yadav.
About half a dozen other new ministers, too, are tainted, but their offences are relatively minor in nature. They include Jamuna Nishad, Sangram Singh, Shazul Islam Ansari, Ramveer Upadhaya, Thakur Jaiveer Singh and Daddu Prasad.
Ironically, even as BSP chief Mayawati's ride to power was due to her stress on teaching outlaws a lesson of their lives, the party did not desist from fielding 131 such candidates in the electoral fray. — IANS