M A I N N E W S
ULFA-triggered blast kills 2
Bijay Sankar Bora
Tribune News Service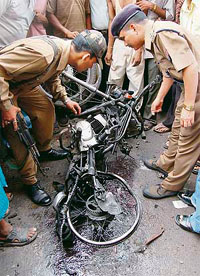 Policemen inspect a damaged motorbike at a bomb blast site in Guwahati on Monday. — Reuters
Guwahati, May 14
Two persons were killed and 17 injured in a blast detonated by the banned ULFA in the Anthgaon area in the heart of the city today even as the death toll in the Tinsukia district violence mounted to eight.
City's SSP S. N. Singh said the bomb was suspected to be planted in a motor cycle, which was parked in front Marwari Maternity Hospital, near the crowded main market in the Anthgaon area.
The injured were taken to the Guwahati Medical College and Hospital. The police and CRPF personnel cordoned off the area where utter chaos and panic prevailed immediately after the blast.
Meanwhile, death toll due to yesterday's group clash at Dholla in Tinsukia district mounted to eight. Unofficial sources claimed that two more unidentified bodies were found in the violence-hit area.
Armed tea garden worker attacked ULFA-backed protesters, who were blocking the National Highway 37 in protest against "fake encounter" killing of Budheswar Moran by the Army yesterday, killing at least five persons.
Meanwhile, one person was killed and 40 were injured when a bus carrying protesters met with an accident in the Kakopathar area.
However, district deputy commissioner A. K. Absar Hazarika put the death toll due to violence at five while confirming the death of a protester in the road mishap.
The curfew, clamped on the areas under the Doom Dooma, Dholla and Kakopathar police stations yesterday, was extended to many other areas, including refinery township of Digboi, Makum. Reports of sporadic violence poured in from different areas.
In a separate incident, a team of policemen fired upon a mob of tea workers at Hanhchora under the Doom Dooma police station in the morning, injuring three. Police personnel claimed that the mob was trying to attack them.
Meanwhile, chairman of ULFA Arabinda Rajkhowa, in an e-mailed statement, accused the Army of conspiring to engineer clashes between the tea workers and the protesters after failing to neutralise the agitation against the "fake encounter" killing of Budheswar Moran.