PUNJAB

HARYANA

JAMMU & KASHMIR

HIMACHAL

REGIONAL BRIEFS

NATION

OPINIONS

MAILBAG

BUSINESS

SPORTS

WORLD
ADVERTISEMENT

Wednesday, May 16, 2007, Chandigarh, India
Updated at 3:00 am (IST)

SGPC, Dera face-off
More violence on Day II
Bathinda Circuit House, vehicles damaged
Bathinda, May 15
As many as 20 persons, including seven policemen, four women, one press reporter, were injured when the followers of Dera Sacha Sauda clashed with policemen, camping in and around the local Circuit House, without any provocation here today.



Sacha Sauda chief denies wrongdoing


Punjab page: Tension in Patiala


Panthic meeting to be held tomorrow


Haryana page: Clash: Alert sounded in Sirsa


Editorial: Display of intolerance


Dera Sacha Sauda followers set upon this police vehicle and smashed its windscreen in Bathinda on Tuesday.
— PTI photo
30 hurt in Rajasthan clash
Sriganganagar, May 15
At least 30 persons including four policemen, were injured and 22 arrested as clashes between Akalis and followers of the Dera Sacha Sauda sect spilled over into Rajasthan today.
CAST YOUR VOTE
Is religious intolerance on the rise?



India: The Tasks Ahead
SPECIAL SUPPLEMENT
125TH ANNIVERSARY CELEBRATIONS,
INAUGURAL SESSION




ADVERTISEMENT

CHANDIGARH

LUDHIANA

JALANDHAR
New

DELHI

HIMACHAL PLUS
New

AMRITSAR PLUS

LIFESTYLE
New

BRIDES WANTED

GROOMS WANTED

OTHERS

HOW TO PLACE ADVTS
In Amritsar Plus today

Peshawar hotel blast kills 25
A powerful bomb blast, believed to be triggered by a suicide bomber on Tuesday killed at least 25 persons and injured 29 in a popular hotel in the heart of Peshawar. Eyewitnesses said an old man with a sack on his head had entered the Marhba hotel located close to the ancient mosque of Mahabat Khan and frequented by Afghan refugees and tribesmen.
A policeman keeps people away from the site of a bomb blast in a hotel in Peshawar on Tuesday.
— Reuters photo
US senators seek visa details from Infosys, Wipro, TCS
Washington, May 15
Infosys, Wipro and TCS are among nine Indian firms that have been asked to disclose details about their workforce by two US lawmakers, who feel that the H-1B visa programme is being abused by foreign companies to displace qualified American workers.
In Jalandhar Plus today
In Himachal Plus today
In Health & Fitness today

E - Revolution 2005:
A Two-day IT conclave

Assembly Elections - 2005

Turbans

Chandigarh is 50

EARLIER FEATURES
ULFA launches attacks on Hindi-speaking people
Guwahati, May 15
Suspected militants belonging to the banned United Liberation Front of Asom today shot dead a 60-year-old grocery wholesale dealer Babulal Shah at Borhat town in Sivasagar district and injured his son Ashok Shah even as there was an unconfirmed report of killing of five Hindi-speaking people at Belbari under Tengakhat police station in Dibrugarh district of the state.
Sikh clergy 'bans' inter-faith marriages
Dehra Dun, May 15
Feeling helpless in stemming the growing trend among the Sikh youth to marry into non-Sikh families, the Sikh clergy and community leaders here have put a virtual ban on inter-faith marriages.

Pak situation worrisome for India
New Delhi, May 15
India views the political and law and order situation in Pakistan as worrisome, but hopes that the snowballing unrest would not undermine the ongoing peace process. Pakistan-watchers in the Government of India are sensitive to the two contrary views of the Pakistan situation.
Fake encounter: SC defers ruling on CBI probe
New Delhi: The Supreme Court deferred its ruling on the Centre's plea for a CBI probe into the 2005 staged killing of Sohrabuddin Sheikh and his wife Kausar Bi till Thursday. The bench of Justice Tarun Chatterjee and P.K. Balasubramanian reserved its order after arguments during which the Gujarat government counsel K.T.S. Tulsi sought to assure that the state police was conducting a free and fair investigation, which would be completed in four to six weeks. — TNS


Tribune Impact
Admn seeks to mollify panchayat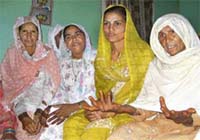 Chandigarh, May 15
The district administration led by the SDM, today, descended at Neem Kheda village to convince the all-women panchayat against resigning and heard out the problems of the villagers.
In Jobs & Careers today

HOROSCOPE
SGPC, dera men clash: 12 injured
May 15, 2007
Maya takes charge
May 14, 2007
30 killed in Karachi
May 13, 2007
Maya's magic sweeps UP
May 12, 2007
77 ways to tax people, Centre tells Badal
May 11, 2007
Dinakaran office torched
May 10, 2007
Quota cheer for govt
May 9, 2007
N-deal: Bush invites PM to US
May 8, 2007
Projects cleared by Cong govt up for sale
May 7, 2007
Battle lines have been drawn, says Vanzara
May 6, 2007