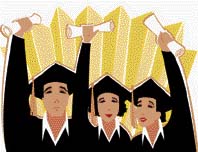 Vocational courses: Ticket to Employability
Usha Albuquerque
Sarika was good at computers but not too keen on going to college. So, she took up computer programming courses, and is today working at Convergys as a systems programmer. Rajesh, on the other hand, did complete graduation but couldnít get a job after that. But with a postgraduate diploma in travel and tourism he has joined an international airline. More and more young people are beginning to realise that there are many routes to a fulfilling career. A college degree is just one of them. Often a vocational qualification can enable you to learn the skills required to get a job.

Careercature
Sandeep Joshi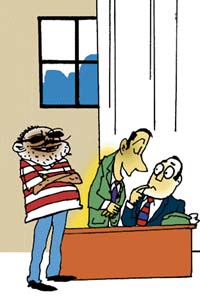 Sir, we have appointed him to do aggressive marketing for us.

Advantage Age
Younger workers face certain disadvantages at the workplace compared to their older colleagues, says a recent ILO report.
Contrary to popular belief that younger people have an edge over older ones in getting better job opportunities, the International Labour Organisation (ILO) stated recently that younger workers are discriminated against at the workplace.


Now, media goes the offshoring way
City reporting jobs travel from US to India
There is hardly anything odd about American IT firms moving back-office jobs to low-cost destinations like India, but a California daily is recruiting journalists here to report what's happening 12,841 km away in Pasadena.


Bits & bytes
Cisco shares updated curriculum
Cisco, the worldwide leader in networking for the Internet, conducted a day-long Retooling session at GB Pant Agriculture and Technology University, Pant Nagar, recently to discuss recent trends in networking technologies and updated curriculum for the Cisco Networking Academy Program.


Aptech leads in Chinese IT Training
Aptech Beida Jadebird IT Co Ltd, an Aptech JV in China captured 32.1 per cent market share in China, according to the latest IDC report, retaining itís No 1 position in China for the fifth consecutive year.


Career Hotline
Put your skills to test
Pervin Malhotra
Q I am keen to start my career as a software tester. What is the scope and could you also give a list of the institutes offering this course?