Advantage Age
Younger workers face certain disadvantages at the workplace compared to their older colleagues, says a recent ILO report.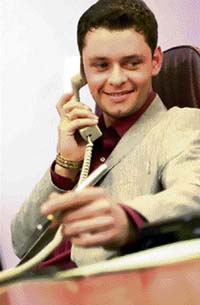 Contrary to popular belief that younger people have an edge over older ones in getting better job opportunities, the International Labour Organisation (ILO) stated recently that younger workers are discriminated against at the workplace.
Based on the surveys carried out in its 180 member states, ILO's annual report, called "Equality at Work: Tackling the Challenges," states the different kind of discriminations at the workplace.
While gender discrimination remains the most rampant form of discrimination in all parts of the world, with women getting lesser job opportunities as well as lesser wages as compared to men, new forms of discrimination have been highlighted in the report.
Discrimination against younger workers is one such new form. "Biased treatment against younger workers can take many forms, one is the payment of lower entry wages on the assumption that they are less experienced, as well as longer probation periods than older workers," the report states.
Even in this form, gender discrimination tentacles in. According to studies, young women across the world, irrespective of their nationality and origin, suffer from additional discrimination because of their sex.
Discrimination based on disability and AIDS is also highlighted in the report. According to it, one in five people around the world is born with a disability and 80 per cent of them live in developing countries.
However, the discrimination meted out to them in the work sphere is alarming.
In Europe, for instance the chances of a disabled person to get a job falls from 66 per cent to 25 per cent depending on the type of disability he has.
In France, only two percent people who mention their disability in their CV get a call for an interview.
In Asia, one in six respondents who are affected by AIDS say that they have been discriminated against at work.
Launching the report, Oscar Fernandes, minister for labour and employment, said: "Right to equality is a fundamental right. Discrimination against HIV/AIDS, against disability and all other forms of discrimination has to be tackled." — IANS