Robbers loot, injure truck driver's family
Bonker Dogra(Laddowal), May 16
In the first incident of the paddy season infamous for robberies and dacoities, a suspected gang of a notorious criminal tribe looted and badly wounded five members of a truck driver's family in Bonker Dogra village near Laddowal at about 2 am today.



The injured daughters (both on one bed) and their mother Manjit Kaur (on the second bed) of Bonker Dogra village, who were injured and looted by a gang of robbers. — Photo by IV
2 teenagers crushed to death
Machhiwara, May 16
Two students, Amrinder Singh (19) and Aman Kumar (17), were crushed to death today morning near Garhi Bet village, 2 km from here. Amrinder and Aman were on way to their college and school, respectively, when a truck coming from Ropar road hit their motorcycle.
Protests against dera chief unabated
Ludhiana, May 16
Outrage against Sacha Sauda dera chief continued in the city for the third day with protest rallies taken out at several places leading to massive traffic jams.




Activists of Sikh organisations protest against the Sacha Sauda chief near the Jagraon Bridge in Ludhiana on Wednesday. — Tribune photo by Sayeed Ahmed
Apply by May 31 for MC ticket: BJP
Mandi Gobindgarh, May 16
The BJP local unit in a meeting held at Ram Bhawan here today discussed the strategy and selection of the candidates for the civic poll of the 'A' class Municipal Council of the state.


Raids to check sale of rotten fruits, vegetables
Health officials seize intoxicating drugs
Ludhiana, May 16
The officials of the food and drug branches in the health department conducted joint raids in Machhiwara town in this district yesterday to check the sale of rotten fruits and vegetables as also intoxicating drugs.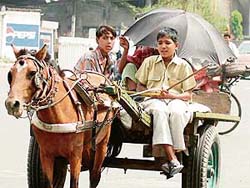 REINS IN HAND: This young child earns his livelihood by running a horse-driven tonga in Ludhiana. Tribune photo by Sayeed Ahmed
Residents demand recarpeting of Gill Road
Ludhiana, May 16
While the municipal corporation has already announced to recarpet all major roads after monsoon, residents of the zone C of the city today vehemently complained against potholes on the Gill Road and demanded that it be relaid immediately.
Mulajam Front to meet CM
Amloh, May 16
The Mulajam Front will meet the chief minister of Punjab, Parkash Singh Badal, at Punjab Bhawan, from 9 am to 12 noon on May 24, said Karamjit Singh Bhagrana, state president of Karmchari Dal, here, today.
Man abducted, assaulted; police yet to register case
Mandi Ahmedgarh, May 16
Even three days after receiving a complaint regarding the alleged abduction and thrashing of a driver of Kalarh village, the Sihar police is yet to register a case against a transporter of Saharanmajra village and his goons.


Members of the family of Jagjit Singh (extreme left) narrate their tale of woes to the Ludhiana Tribune during transit at Ahmedgarh on Wednesday. — Photo by Mahesh Sharma
100 cases settled at sangat darshan
Mandi Gobindgarh, May 16
Alik Nanda Dayal, deputy commissioner, Fatehgarh Sahib, settled around 100 complaints out of 150 during sangat darshan programme held at seven villages of Amloh sub-division here yesterday.



Joint Commissioner M. S. Kainth listens to grievances of people during MC's sangat darshan programme in Ludhiana on Wednesday. — Photo by I. V.
Water sampling at Samrala
Samrala, May 16
According to Dr Harvinder Singh, senior medical officer, Samrala and a team from civil surgeon office, Ludhiana, under the supervision of Dr Sanjiv Hans, district expidemtologist, along with members of the Municipal Council, Samrala, took sewers' water sample from different parts of the city here today. — OC