M A I N N E W S
'Arrest baba in 3 days'
Call from Talwandi Sabo
Chander Parkash
Tribune News Service
SGPC president Avtar Singh Makkar: "We don't want to negotiate with him (head of Dera Sacha Sauda). We will not talk to him. He will have to face action. We will not spare him."
Jathedar Vedanti escaped from getting hurt when one of the Sikh followers hurled a sword at him protesting the "mild punishment" given to the dera head. The sword missed the mark but Vedanti fell on the stairs and following him Makkar also fell down.
Talwandi Sabo, May 17
The Sikh clergy today issued an edict directing the Sikh Sangat to snap all ties, including social, religious and political, with Baba Ram Rahim Gurmit, head, Dera Sacha Sauda, and its followers. The Sikh clergy directed the Punjab, Haryana and Central governments to ban the anti-national activities of the baba.
It told the state government to register criminal case against the baba and his followers for their involvement in attacking unarmed members of the Sikh community who were going to submit a memorandum to the district administration at Bathinda on May 14.
The edict was issued at a panthic meeting held at Takht Damdama Sahib here to take a decision in connection with the anti-Sikh activities of the baba.
Giani Joginder Singh Vedanti, jathedar, Akal Takht, read out the edict from Takht Damdama Sahib. Before Vedanti read out the edict, various leaders addressed the gathering from Takht Damdama Sahib.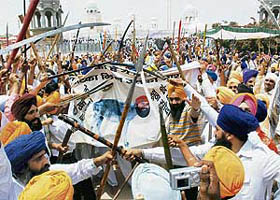 Protesters attack a poster of Dera Sacha Sauda chief at Gurdwara Damdama Sahib on Thursday. — PTI photo
They said the edict had been issued after considering the suggestions made to them by about 100 Sikh religious organisations and representatives of different Sikh political parties submitted in writing to them.
The Sikh clergy, including Giani Joginder Singh Vedanti, Giani Balwant Singh Nandgarh, Giani Iqbal Singh, Giani Tirlochan Singh and Jagtar Singh, jathedars of Akal Takht, Takht Damdama Sahib, Takht Patna Sahib, Takht Kesgarh Sahib and granthi, Shri Harmander Sahib, declared that if the governments concerned failed to curb the anti-Sikh Panth activities of the dera within five days then Akal Takht would issue a new edict.
The Sikh high priests also issued directions to the SGPC to force the state government to make strong laws to curb the activities of the baba.
Later talking to mediapersons, Vedanti said the Punjab government had been urged to seal all deras of Sacha Sauda in Punjab. He added that the governments concerned had also been asked to arrest the baba within three days.
When asked what would be the stand of the Sikh clergy if Baba Ram Rahim Gurmit tendered an unconditional apology, Vedanti said if the baba presented himself before Akal Takht and submitted an unconditional apology, he would be given a patient hearing and his apology would also be considered.
When asked about the stand of the clergy regarding SAD leaders, including Parkash Singh Badal, who had been visiting the dera, he said any Sikh who would be visiting the dera henceforth would be taken to task as per the Sikh maryada.