Holographic solar power
S. S. Verma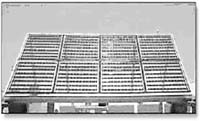 Holographic Solar concentrator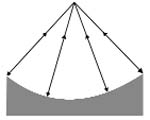 Figure 1 (a): With mirror
Finding out the means for making the efficient use of solar energy, whether for cooking/heating or generating electricity, has always been on the priority of the scientists and engineers. Solar photovoltaic cells have been developed but using them has limitations. The main limitation of solar power right now is cost because the crystalline silicon used to make most solar photovoltaic cells is very expensive. The high demand for solar cells in developed countries has already outstripped the supply, which has led to a silicon shortage and a shortage of manufacturing in the photovoltaic world.
One approach to overcoming this cost factor is to concentrate light from the sun using mirrors or lenses (Figure 1 a & b), thereby reducing the total area of silicon needed to produce a given amount of electricity. Other disadvantage is the requirement of a solar concentrator, which uses lenses, called Fresnel lenses, which take a large area of sunlight and direct it towards a specific spot by bending the rays of light and focusing them. The traditional light concentrators (Figure 2) with solar tracking system (as Earth is always on move with respect to sun) to catch the solar light are bulky and unattractive — less than ideal for use on house rooftops.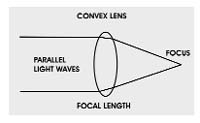 Figure 1 (b): With lens
Holography is the science of producing holograms, an advanced form of photography, that allows an image to be recorded in three dimensions. Hologram is a laser-created pattern that diffracts light. Once the film is processed, if illuminated once again with the reference beam, diffraction from the fringe pattern on the film reconstructs the original object beam in both intensity and phase.
To date, little attention has been given to optics technologies in solar module R&D. Holographic technology can impact solar module output and application. It is believed that holographic technologies might be next promising frontier for increasing energy efficiency from solar photovoltaic modules.
Although the idea of holographic solar concentrators has been around since the early 1980s, no one has developed them commercially yet. Now Prism Solar Technologies of Stone Ridge, NY (USA) has developed a proof-of-concept solar module that uses holograms to concentrate light. They are going to manufacture a new solar module that incorporates its patented holographic planar concentrator (HPC) technology.
In their ability to concentrate light, holograms are not as powerful as conventional concentrators. They can multiply the amount of light falling on the cells only by as much as a factor of 10, whereas lens-based systems can increase light by a factor of 100, and some even up to 1,000. But traditional concentrators are complicated and they also heat up the solar cells, and so require a cooling system. As a result, although they redirect light with more intensity than the hologram device, they're unwieldy and not as practical for residential uses.
Holograms have advantages that make up for their relatively weak concentration power. They can select certain frequencies and focus them on solar cells that work best at those frequencies, converting the maximum possible light into electricity. The holographic module technology is "cell-neutral" and can spectrally select the desired portion of sunlight allowing for "cooler" solar cell operation while maintaining an increased power output by concentrating specific solar wavelengths unto the cells. In this way, we can efficiently use only that part of the sunlight that really matters.
The new technology replaces unsightly concentrators with sleek flat panels laminated with holograms. Also, different holograms in a concentrator module can be designed to focus light from different angles — so they don't need moving parts to track the sun.
The panels, says company's president and CEO, are a "more elegant solution" to traditional concentrators, and can be installed on rooftops — or even incorporated into windows and glass doors.
The system needs 25 to 85 percent less silicon than a crystalline silicon panel of comparable wattage because the photovoltaic material need not cover the entire surface of a solar panel. Instead, the PV material is arranged in several rows. A layer of holograms directs light into a layer of glass where it continues to reflect off the inside surface of the glass until it finds its way to one of the strips of PV silicon.