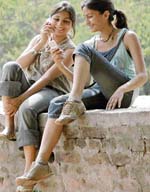 World at their fingertips
With mobile phones providing easy access to the Internet, youngsters are connecting to friends through digital platforms, says Saurabh Malik
Connected to the cyber world through cell-phones, upwardly mobile youngsters across the city are keeping their social network busy by dialing up 'e-communities'. You may find it incredulous if you are out of virtual advancement's coverage area, but the little ones are just not waiting for jamborees to make pals with gals, or to twirl their way into companionship with complete strangers during late night parties. They are adding new names to the address books by socialising on a digital platform, without stepping out of their own little worlds, by logging on to online social networking sites through cell-phones. In fact, what started as a diversion for so many teenyboppers is fast becoming a rage with easy accessibility and opportunity adding charm of their endeavors.


Penning success
When you see Anna Bredemeyer, the first thing that strikes you is the way she's sinuously fluttering around for photo-shoots
Age cannot wither her, nor custom stale her infinite variety. As Anna Bredemeyer rolls her head a little towards the right before swiveling her entire body to pose for the camera, you realise time just has not succeeded in defeating the enthusiasm that made her India's first supermodel. Back then, you would have described her as "awesome" or "simply gorgeous". In today's parlance, you grope for words like "fab" and "dazzling" to capture her beauty that has withstood the test of time. As Anna — Miss India 1975 — flashes a smile before wheedling you to ask questions, you realise it's almost infectious. You just cannot help but beam along with her. And as she talks about the need for taking time out to live, and not just exist, you realise maybe that's the secret of her timeless beauty.
Add fizz to life
For youngsters living life on the fast track, 'Coca-Cola speed jamming' may just be the virtual platform they are looking for. It promises to add fizz to your life by building and promoting online communities through innovative Internet platform www.myenjoyzone.com


Treasure Trove
He adds colour to history
Purva Grover
As we enter Piara Singh's house in Mohali, his wife ushers us inside and asks us to wait. In the room, a study table occupies most of the space; atop the table lay stacks of coloured sheets in blues, pinks and yellows, a pair of scissors, and a glue stick. We assume that it is his grandson's room, who is probably struggling with his holiday work. Till, we meet this curator. Singh enters the room, switches on the music system, and lets the melodious voice of Jagjit Singh fill the room. He carefully puts aside the stuff and begins to talk.
New releases
A weekend of Bollywood thrillers
Ek challis ki last local
Director: Sanjay Khaduri
Cast: Neha Dhupia, Abhay Deol, Snehal Dabhi, Deepak Shirke, Ashok Samarth, Vinay Apte Abhay Deol and Neha Dhupia team up for the first time in this film written and directed by Sanjay Khaduri who assisted Kundan Shah and Subhash Ghai before becoming a director.

youth speak
Defying the child's right to live?
An important question haunting the minds of youngsters in India is, that whether parents or rather the 'to-be' parents should have the right to choose the sex of their child. If the answer is yes, the only plausible solution to this seems to be foeticide. This further calls for legalisation of hitherto illegal medical practices such as the use of sonography or ultrasound for the pre-determination of the child's sex. Praaggya Sharma
Brewing old memories
What attracts people to the Coffee House? Swati Sharma finds out
The faded picture of Vaijayantimala still peeps out of the dingy walls of The Indian Coffee House, Sector 17. Nothing has changed here in the past 50 years, right from the hands that serve you, to the aroma of sambhar, and to even some of the visitors. Many South Indian eateries have sprouted in and around the city, but Coffee House continues to rule. And interestingly, its fan following goes back to several decades. D.P. Singh, former principal of Government College, Sector 46 comes here everyday. He says, "I have been coming here since my college days in 1960." Singh and his friends swear by the taste of the coffee here.
SIDELANES
Jhilmil & Pehalwan in danger
Joyshri Lobo
No! These are not inter-caste lovers who have been hounded out of their hiding places and strung up from the nearest tree by indignant relatives and friends. These are the imaginative, seductive names of two eating-places along the road to Delhi. There are many, many more by the sides of our crisscrossing, nation-wide highways. They are the ubiquitous dhabas that bring together the country's roads and pilgrims.
ON A FIRM FOOTING
Smriti Sharma
His Akele Hum Akele Tum number is still fresh in our minds. That was then, Aditya Narayan at his innocent best. At 19, Aditya is almost grown up, carrying a sensible head on his shoulders and at his charming best.
---