M A I N N E W S

after 4 Days


Respite
Forces in position
Prabhjot Singh
Tribune News Service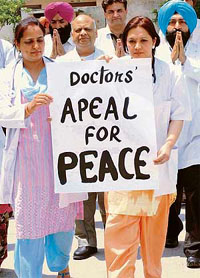 Doctors hold a peace march against violence in Punjab at Mata Kaushalya Hospital in Patiala on Friday. — Tribune photo by Rajesh Sachar
Chandigarh, May 18
Deployment of para military forces and promulgation of prohibitory orders notwithstanding, stray incidents of violence, arson and protests were reported from different parts of Punjab where the overall situation continued to be tense but under control on the fifth day today.
Besides sealing of the Punjab and Haryana border, paramilitary forces have taken position in sensitive and vulnerable areas where they held flag marches after promulgation of prohibitory orders.
Schools will remain closed in many districts tomorrow as assembly of five or more persons, taking out of processions and carrying of firearms have been prohibited under Section 144 of the Cr PC.
Though both the Sikh organisations and the Dera Sacha Sauda indicated no reconciliatory move to defuse situation, the Punjab Government reiterated that it would deal any law and order situation arising out of the current controversy with an iron hand.
The SAD-BJP government, which assumed office only in first week of March, also wanted a message to go to the intended investors, especially multinational and foreign companies, that no laxity would be shown towards those trying to disturb the peaceful environs in the state.
Meanwhile, The Punjab Council of Ministers, which met under Chief Minister Parkash Singh Badal here today, held that despite grave provocation, situation in the state had remained totally under control. Barring a few unpleasant incidents, the state remained peaceful and free from communal tension.
The government's firm resolve to preserve peace and communal harmony besides maintenance of law and order at all costs was reiterated. An appeal was made to the people to preserve traditional Punjabi unity, communal harmony and peace.
Earlier in the day, the Chief Minister reviewed the situation at a meeting with the Chief Secretary Ramesh Inder Singh, Principal Secretary Home Bhushan Chander Gupta and Director-General NPS Aulakh. Strict instructions were issued to all DCs and SSPs to take measures to maintain and peace and communal harmony.
Underlining the need to involve members of all political parties, social organisations and prominent people, they have been issued instructions to hold meetings of peace committees in the district and at sub divisional towns to seek their support and cooperation to maintain peace and communal harmony.
Though a near-complete bandh was observed in many cities and towns today, two shops and as many houses were ransacked in Dhuri as members of various Sikh organisations held demonstrations and protests throughout the state.
Tension escalated in Sunam where an agitated mob wanted to take out the body of Kamaljit Singh in a procession after post-mortem examination. Kamaljit had died of bullet injuries outside Sunam Dera of Sacha Sauda. Senior leaders of various Sikh organisations, however, prevailed upon the agitated mourners.
In Bathinda, the Judicial Accountability and Human Rights Protection Organisation (NZ) moved a petition before the local police demanding registration of a criminal case against five Congress MLAs of the Malwa belt for inciting violence yesterday.
Though the police registered two cases in Bathinda yesterday, the allegations made by the organisation were being investigated. No case has been registered.

Fresh advisories to Punjab, Haryana
Tribune News Service
New Delhi, May 18
The Centre today asked Punjab and Haryana government to take steps to contain the sectarian flare-up between Sikh groups and Dera Sacha Sauda and ensure that the standoff is not exploited by anti-social elements.
Prime Minister Manmohan Singh also advised the state governments to maintain utmost vigil and ensure law and order and protection to life and property of all citizens.
Dr Singh condemned the violence in the state and urged the people to maintain peace and harmony.
In the fresh advisories issued today by the Union Home Ministry, similar to the ones issued two days ago, the state governments were told to utilise the central forces effectively to maintain law and order and restore normalcy and peace.
The two states have also been asked to initiate peace dialogue between the groups involved to diffuse tension.
Union home minister Shivraj Patil also appealed to the people to maintain peace and harmony and assured the state governments of all possible help. Minister of state for home Sriprakash Jaiswal told mediapersons that the Centre has already rushed 40 companies of Central Paramilitary forces, including Rapid Action Force to Haryana and Punjab.

Shops shut
Ludhiana, May 18
Tension gripped Ludhiana today with activists of Sikh organisations forcing traders to shut their shops in protest against the Dera Sacha Sauda chief's alleged anti-Sikh actions.
Karimpura bazaar, Mochpura bazaar and Chaura bazaar, all wore a deserted look in the morning as shops in various markets across the city were kept shut fearing damage from the protesters.
According to sources, the protesters raised slogans against the Dera chief for hurting Sikh sentiments by allegedly dressing like Guru Gobind Singh. — PTI