A stretch of 10 km between Amritsar city and Rajasansi becomes a hub of development activity, comments Vibhor Mohan
The coming up of Rajasansi International Airport on the outskirts of Amritsar is driving up the land prices on the Ajnala road, making the 10 km stretch from Amritsar city to the airport the best deal for both residential and commercial purposes. The trend, which started about two years back with the setting up of the airport, has increased lately with ongoing expansion of the airport.
Jupinderjit Singh discloses how once-bitten-twice-shy investors are acting cautious in Sahnewal after burning fingers at Halwara and Laddowal
While over a thousand investors went from boom to doom in the much hyped and then coolly scrapped international airport projects at Laddowal and later Halwara, real estate investors are adopting a wait-and-watch policy before going in for an overdrive at the now proposed Sahnewal International Airport Project.
Rates reach astronomical heights in Navi Mumbai
The cost of land in Navi Mumbai has reached astronomical heights with a bidder bidding Rs 1,01,000 per square metre for a plot of land belonging to the City and Industrial Development Corporation (CIDCO).
Decks cleared for Fab City
With the Andhra Pradesh government issuing an order of allotting 100 acres of land to SemIndia Inc, decks have been cleared for the proposed $3 billion semiconductor manufacturing Fab City here.
Acquisition in Andhra
Relief and Rehabilitation Package is claimed to be the first of its kind in the country, says Ramesh Kandula
Andhra Pradesh has taken up massive land acquisition for ambitious projects, sans any incidence of violence a la Nandigram.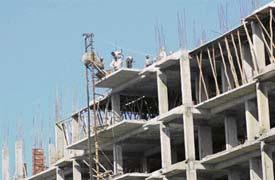 GROUND REALTY
Tackle dampness at the base
The strength of a building depends on Damp Proof Course, commonly called DPC, says Jagvir Goyal
Four things that every house builder dreads are termites, cracks, leakages and dampness. These occurrences take the house-owners breath away. Though post-affliction remedies are available, yet the joy of living in a trouble free house is lost and the owner keeps looking for reappearance of any of these.
New Jammu emerges
Planned townships provide an impetus to growth, says Prabhjit Singh
The new addresses of Jammu are Greater Kailash, Sainik Colony and Chhanni, the townships that are emerging fast as the new destinations, growing parallel to the 30-year-old established posh colonies of Gandhi Nagar, Shastri Nagar and Trikuta Nagar.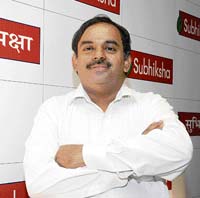 Estate talk
Subhiksha takes early bird benefit
Subhiksha is the country's largest retail chain. Within a decade, the retail chain from South has made its presence across the country. The no-frills shop clearly has the first mover advantage as several retail giants are entering the multi-billion dollar retail sector, which has traditionally been the stronghold of the unorganised sector. R Subramanian, Managing Director of Subhiksha, in an interview with The Tribune outlined the strategy and plans to increase presence in North India.
There is a huge potential for retail sector's growth in India says R Subramanian, Managing Director of Subhiksha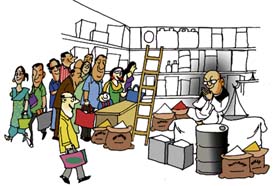 Humble kiryana shops have an edge
Even as companies have lined up investments worth over $20 billion in the country for their organised retail businesses, the small 'kiryana' (grocery) stores still have an edge over their much larger new-age counterparts on profitability measures.
Completion certificate is essential
Housing sector has been the recipient of a large number of fiscal incentives in the past few budgets. However, the recent hike in interest rates has left many aspirants fuming
TAX tips
Gain investment rules vary for private and coop societies
Q. I had earned certain amount as LTCG, which has been invested at the time of booking a house under a group housing project. Will the gain be deemed to have been invested for the purpose of saving tax? The house is likely to be completed with in three years, but for some reason, if a builder delays the possession and the three years period is exceeded, what will be the consequence for no fault of mine.
Buzz on Bourses
Yatra Cap funds for Pune
New Delhi: Real estate investment company Yatra Capital Limited has announced its foray in India with plans to invest Euro 21.6 million (around Rs 120 crore) in a joint venture firm. The joint venture company set up with Kolte Patil Developers will develop three residential sites in Pune, a company statement said. Yatra Capital is an Indian property fund based in Jersey and is listed on Euronext, Amsterdam.


Sankalpan pact with UK co

JP Morgan to invest in Chennai

Konecranes engineering centre

Emami in realty

Ansals ink deal with Deyaar

Tatas tie up with Jafza

Zion complexes in Faridabad

Fire Capital to invest $250 m

Bharat Hotels in Dubai

Pearls project for Zirakpur

Banyan Tree venture in Kerala

Wachovia acquires stake in Vipul