COLUMNS



THIS ABOVE ALL

TELEVISTA

GOOD MOTORING

AUDIO SCAN

MUSIC ZONE

WEBSIDE HUMOUR

FOR CHILDREN



CROSSWORD

RHYME TIME

ROOTS

In search of a bigger role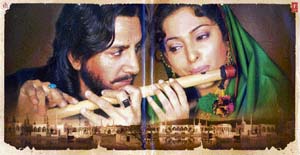 Buxom beauties, brave heroes, crass villains, loud dialogues, wild fights and boisterous music have been the staple of Punjabi cinema for long. Now, slowly, the industry is showing signs of change with top producers and NRIs pumping in money for serious productions like Waris Shah and Rustam-e-Hind. Randeep Wadehra looks at the record of Punjabi cinema, which has seen more downs than ups

CLASS APART: Waris Shah set a new benchmark for Punjabi cinema with its glam quotient, taut direction and stunning visuals
Lifestyle on a loan
They are called the 'instalment generation'. This new class of job holders spends voraciously, often by taking loans, says Ritusmita Biswas
The young and an unabated spending spree: Do they go together these days? Perhaps, looking at these instances. Soma and Shantanu wanted a break. She is a busy airhostess and he an ad executive and both with on-the-edge work schedules.
Back to singing
It looks like superstar Will Smith is all set to revive his singing career, as the hip-hop artist is planning to reunite with old partner Jazzy Jeff for a world tour.
Britney to tell all
Now that her life is finally back on track, Britney Spears is reportedly planning a tell-all book in which she takes on the people who did her "wrong". According to sources, the singer is so angry with the people who let her down, that she's planning to dish the dirt on them in her book. And on her list is not only former beau Justin Timberlake, but also her two husbands —Jason Alexander and Kevin Federline.

Saraansh was a gift from heaven: Kher
Anupam Kher has come a long way from his roots in Himachal Pradesh to his branching out and flowering as one of the most versatile and gifted actors in Bollywood today. He has taken the brunt of public censure during his tenure as director of the Central Board of Film Certification.


Anupam Kher
Boon for the blind
A group of IT students in Agra have developed a device that can enable the blind to hear what they cannot see or read. Called 'E-Netra', it costs Rs 2,000 to Rs 3,000 and it reads texts through an embedded system and converts them into voice that can be heard through earphones. Right now it can only read text, but later it is likely to pick up prints in Braille script.