In search of a bigger role
Buxom beauties, brave heroes, crass villains, loud dialogues, wild fights and boisterous music have been the staple of Punjabi cinema for long. Now, slowly, the industry is showing signs of change with top producers and NRIs pumping in money for serious productions like Waris Shah and Rustam-e-Hind. Randeep Wadehra looks at the record of Punjabi cinema, which has seen more downs than ups
There's an old joke about Punjabis. Family A invites Family B and treats it to a sumptuous meal of rajma-chawal. The guests praise the hosts' culinary skills. Then Family B invites Family A and serves rajma-chawal to similar compliments. All this simply implies lack of imagination and taste in Punjabi cuisine. Similar is the perception about Punjabi cinema – a hotchpotch of rustic violence, vendetta and vulgarity. Of course all this can be shrugged off as insinuations of the uninitiated as both Punjabi food as well as cinema have rich history and range – sweet, sour and spicy but seldom bland. Movies like Satluj De Kande, Madhi Da Diva and Waris Shah prove the point.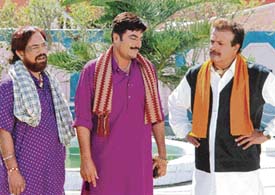 MAKING WAVES: The critically-acclaimed Rustam-e Hind is doing roaring business

It is true that for a rather longish phase inertia in creativity had set in. As a result, one saw rank bad productions spew violence and double entendre. But all this has changed in recent times with movies like Dil Apna Punjabi (Director Manmohan Singh; starring Harbhajan Mann, Neeru Bajwa, Mehak Chahal and Kanwaljeet), Mannat (Director Gurbir Grewal; starring Jimmy Shergiill and Kulraj Randhawa), Rustam-e-Hind (Directors JS Cheema & Sarabjit Beniwal; starring Parminder Doomshedi, Jagdish Bhola, Shivendra Mahal, Dr. Ranjit, Donny Kapoor) and Waris Shah (Director Manoj Punj; starring Gurdas Mann and Juhi Chawla) earning popular acclaim as well as critical appreciation. If the two Manns and Jimmy Shergill are the current poster boys then Donny, Kulraj, Mehak and Neeru are heart-throbs of GenNow both in India and abroad.
Overall the industry is showing signs of rejuvenation. In fact we are witnessing a trend wherein established producers like T-Series, Shemaroo and Tips have entered the Punjabi film industry in a big way. And with Bollywood directors like Manmohan Singh contributing their mite, things can only look up. Movies like Jee Aayan Nu, Asa Nu Maan Watna Da and Yaaran Naal Baharan have established Manmohan Singh as the industry's Renaissance man. However, to put things in perspective, the current upsurge in the cinema's fortunes is but a continuation of its impressive track record that has taken the dismal interregnum in its stride.
Vijay Tandon, noted actor-writer-producer, points out: "Punjabi cinema has had its moments of glory. Much before the Partition, Lahore was the main centre of the Indian film industry. Music, drama and comedy used to be the salient points of Punjabi cinema. Over a period of time movies belonging to different genres like comedy, romance, devotional, socials and serious or art cinema were produced. And don't forget that Punjabis have played a pivotal role in making Bollywood a respected international brand name."
Tandon makes a valid point. Before the Partition, comedies with excellent music used to be very popular in the region. For example, Posti was a superhit and its hero Majnu a household name. Post-Partition, the trend continued. One of the hit comedies was Mulkh Raj Bhakhri's Bhangra (1958), starring Sundar and Nishi. It was remade by Mohan Bhakhri as Jatti in 1980 with Mehar Mittal and Aparna Chowdhry, and once again it was a great commercial success. In fact Bhangra's music (Hansraj Behl, who introduced Asha Bhonsle) and lyrics (Verma Malik) became immensely popular. Songs sung by Shamshad and Rafi like Batti balkay banere utte rakhdi han, rah bhul na jave chann mera and Chitte dand hasnon nayion rehnde were on everybody's lips. Similarly, Johnny Walker-starrer Wilayati Babu was a hit and was remade with the same name featuring Mehar Mittal in stellar role and Amitabh Bachchan in guest appearance.
The comedy phase continued well into the 1980s with such popular productions as Yamla Jatt with IS Johar and Helen, Mamaji with Gopal Sehgal, and Jija Saali as well as Do Madari with Mehar Mittal.
But already movies belonging to other genres were becoming successful at the box office. In 1969, the devotional movie Nanak Naam Jahaaz Hai with Prithviraj Kapoor, Nishi and IS Johar started a trend that saw such flicks as Nanak Dukhiya Sab Sansaar (Prithviraj Kapoor, Dara Singh, Balraj Sahni, Achla Sachdev and Pran), Dukh Bhanjan Tera Naam (Radha Saluja, Shaminder, with Rajinder Kumar, Dharmendra and Om Prakash as guest artistes), Man Jeetey Jag Jeet (Sunil Dutt, Radha Saluja, Gursharan Singh and Ranjit), Sawa Lakh Se Ek Ladaoon (Dara Singh, Navin Nishchol, Varinder and Mehar Mittal with Rajesh Khanna and Neetu Singh as guests), Bhagat Dhanna Jatt (Dara, Yogita Bali, Komilla Virk and Randhir Kapoor), Mittar Pyare Nun (BS Shaad, Meena Rai and Vijay Tandon) as well as Uchcha Dar Baba Nanak Da (Gurdas Mann, Preeti Sapru, Tanuja and Kulbhushan Kharbanda).
If the above two genres were popular with the family audiences then dacoit and action movies regaled the rural youth. Of these, Jatt Jeeona Maur enjoys the same status among Punjabi audiences as Sholay and its hero Guggu Gill became a superstar – the only genuine one so far. The only other cult-status flick is Putt Jattan De (Baldev Khosa, Daljit Kaur, Dharmendra, Shatrughan Sinha, Parkash Gill and Mehar Mittal). Another successful one was actor-producer-director Preeti Sapru's Qurbani Jatt Di with Dharmendra, Raj Babbar, Gurdas Mann, Guggu Gill and Yograj Singh. Recently, Rustam-e-Hind had been doing roaring business. However, barring such exceptions, most of the productions belonging to this genre portrayed senseless violence essayed by the likes of Varinder-Yograj duo.
Romantic movies held sway over young hearts in small towns, although big-town audiences in Amritsar, Ludhiana, etc, too flocked to the theatres. In 1974 came the superhit Teri Meri Ikk Jindari with Meena Rai, in which Varinder, Mehar Mittal and Vijay Tandon made their debuts. This flick was Dharmendra's second guest appearance after the black and white Kankaan De Olhey, which had Johnny Walker, Jeevan, Mehmood Jr and Rajinder Kumar in the cast.
Rano is credited with setting a box-office record in Punjabi moviedom. It had stars like Satish Kaul, Bhavna Bhatt, Varinder and Shobhni Singh. Other superhit movies were Sarpanch (Asha Parekh, Dara Singh, Yash Sharma in title role and Varinder), Laung Da Lashkara (Raj Babbar, Gurdas Mann, Nirmal Rishi and Om Puri), Saidan Jogan (Daljit Kaur) and Jatt Punjabi (Satish Kaul, Bhavna Bhatt, Raza Murad, Mehar Mittal and Manoj Kumar).
Waris Shah, released last year, has all the features of a classic, viz., authentic ambience, great acting, beautiful photography and impeccable direction. It, sadly, has turned out to be director Manoj Punj's unintended swan song as he died an untimely death last year. This Oscar entry, starring Gurdas Mann, Juhi Chawla, Divya Dutta, Gurkirtan and Vijay Tandon, may well trigger off an era of romantic period films.
Recently, a new trend of family sagas and urban-cross-cultural movies has become rather strong. Jee Ayan Nun, Asan Nun Maan Watana Da, Des Hoya Pardes, Dil Apna Punjabi, etc, have ushered in an era of sophisticated and clean movies that are popular both in India and abroad. Then there are socials like Mehndi Wale Hath that highlight burning social issues. Another popular flick of this genre was Main Ma Punjab Di, starring Shivendra Mahal and Manjit Kular. Such introspective movies indicate sensitivity and new awareness among our filmmakers.
But why does Punjabi cinema have such a poor image?
Vijay Tandon and actor-director-anchor Shivendra Mahal maintain that this is probably because of a lack of awareness the cinema's achievements (see box – National Awards) and pedigree. If one looks at the National Award-winning movies, one realises the range of genres in which Punjabi movies have made an impact.
Can one safely presume that Punjabi film industry's dark days are over? It would be premature to say so. Although one notices the growing number of film directors (see box – Big bosses) making excellent movies, some of the leading lights interviewed for this piece say that the industry is facing so many problems that one cannot be too optimistic about its future (see box – Cinemascope). However there's a silver lining. The NRI factor may prove to be a life-saver for the industry, and stepping in of big production houses like Tips as well as the upcoming film city in the region may well catapult it to the forefront of regional cinema.
More hype, less profit
According to Shamsher Sandhu, a lyricist who has penned many successful lyrics for music videos and films, an A class Punjabi movie such as Waris Shah, which had Gurdas Mann and Juhi Chawla, cost around Rs 8 crore. While Harbhajan Mann's Jee Aayan Nu and Asan Nu Maan Watana Da was in the range of Rs 5 crore. The budget of Pind Di Kudi, Rustam-e-Hind, produced by Dalvinder Lidhar and directed by Iqbal Dhillon with Sarabjeet Cheema in the cast, was about Rs 80 lakh. Punjabi films do not make much money because the territory is small and the cost cannot be recovered. Now that Punjabi films are being screened in Canada, America and the UK, some money might flow in. Gurdas Mann's movies are backed financially because his shows are big grossers abroad. Even if the movie does not do well, the financier can get money through his shows.
There is not much moolah in Punjabi cinema because only eight to 10 prints are released in big towns such as Ludhiana, Jalandhar, Amritsar and Chandigarh, while on an average about 250 to 500 prints of a Hindi film are released. Almost all Punjab's cultural festivals and sports tournaments are NRI-sponsored so it is natural for them to actively plug for Punjabi cinema as a taking-pride-in-Punjab exercise. But no 'successful' team has made another movie with the same set of producer-financiers. If it was so lucrative, why have the makers not done a repeat?
Earlier movies such as Putt Jattan De, Sarpanch, Lambardarin and Jatti made money because the cost of making a film would be about Rs 10 lakh and it would fetch around Rs 25 lakh. There is escalation in costs due to more elaborate sets and overheads. As a result there is more hype, talk and discussion but no profit at all. The viewers do not lack entertainment what with many Punjabi channels filling that slot.

National Award winners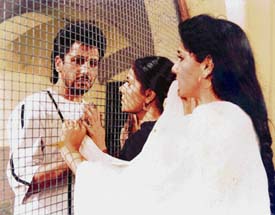 A still from the award-winning Kachehari
Nanak Naam Jahaaz Hai and Satluj De Kande bagged the national award given as certificate of merit.
Best feature film awards were won by Chann Pardesi, Madhi Da Diva, Kachehari, Main Ma Punjab Di, Shaheed-E-Mohabbat, Shaheed Udham Singh and Des Hoya Pardes.
Big bosses
Manmohan Singh — Jee Aayan Nun, Yaraan Naal Baharaan, Mitti Awajaan Mardi (under production)
Iqbal Dhillon — Mehndi Wale Hath, Tabahi.
Krishan Sahni — Rustam-e-Hind, Door Nahin Nankana
Ravinder Ravi — Lalkara Jatti Da, Truck Driver
Darshan Bagga — Rabb Ne Banayian Jodian, Jatti Pandraan Murabbeyan Wali
Ravinder Peepat — Kachehari, Chann Pardesi.
Manoj Punj — Des Hoya Pardes, Shaheed-e-Mohabbat Buta Singh
Jaspal Bhatti — Mahaul Theek Hai
Mukesh Gautam — Surkhaab (under production)

Cinemascope

Iqbal Dhillon, film-maker: Wrong claims of success by some filmmakers lure innocents and destroy their lives. The previous regime did nothing for the industry. Local producers and film personalities agitated in vain. There are no studios for indoor shooting. The new government must help the Punjabi film industry by providing facilities and establish a film city that would be run by genuine Punjabi producers only and not pseudo Punjabis from Mumbai. Not many Punjabis from Bollywood have helped the local industry barring Raj Babbar and a non-Punjabi like Shatrughan Sinha. They both have worked free for local productions. Dharmendra too has helped but only to a little extent.

Jaspal Bhatti, actor-satirist-director: Before the 1960s, the budget used to be a few lakhs, today one requires a minimum of Rs 1 crore to make a decent movie. Plagiarism and poor marketing channels may kill Punjabi cinema.
Vijay Tandon, actor-writer-producer: Unless

the scenario changes drastically, Punjabi cinema doesn't have a bright future. Plagiarism has dealt fatal blows to all meaningful attempts to rejuvenate it. Home videos have far better chances as the gestation period between shooting and releasing a video movie is very short. Investment required is comparatively affordable and distribution is not a problem.

Mukesh Gautam, director: Investments by Bollywood producers in the film city will help local talent upgrade skills by exposure to top-class professionals. Outdoor shooting is not a problem but studios are sorely needed. Right now we look up to Mumbai
for everything.
Dalvinder Lidhar, NRI producer: I would like to warn the new entrants who get taken in by this hype and balle balle about the profitability of financing Punjabi movies. Instead, they should make low-budget movies and control the cost of production. As the producer of Jee Aayan Nu and Asan Nu Maan..., I have lost Rs 4 crore. I want to warn wannabe producers, Soch samajh ke paisa lao.