Lifestyle on a loan
They are called the 'instalment generation'. This new class of job holders spends voraciously, often by taking loans, says Ritusmita Biswas
The young and an unabated spending spree: Do they go together these days? Perhaps, looking at these instances.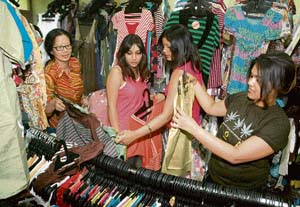 Shopping made easy

: The young do not mind buying on credit — Photo by Vinay Malik
Soma and Shantanu wanted a break. She is a busy airhostess and he an ad executive and both with on-the-edge work schedules. Their last break was their honeymoon three years ago and now they believed they had earned a well-deserved holiday. The only problem was that despite their plush jobs, they had no money as they had just bought a flat and their second car. But then it was not really a matter of concern as there was more than one financial agency willing to lend a buck to this hi-fi working couple in need.
Sixteen-year-old Poorvi Jain wanted that dress badly, as looking good at the happening party next day was a must for her. Her parents were out of town but, what the heck, she always had the credit card to fall back on.
Ritu knew that she was indulging herself too much in her shopping spree and the next few months of debt would be hard on her budget. But she could not check the temptation. After all she was not required to pay now.
Gone are the days when being in debt was a bad word and a concept that the middle class dreaded. It's the in-thing now and the instalment generation seems to be living merrily doling out monthly instalment payments for the several 'essential' luxuries that they need.
Save and then spend seems to be an outdated concept right now. Even youngsters from small town India are big spenders these days whatever be their means of finance. And if you thought 'shop till you drop' was related only for women, think again. Surveys show that men today are equally great spenders on personal items. Be it wheels, boom boxes, laptop or latest mobiles and even clothes, men are neck and neck with women when it comes to shopping. From cell phones to branded footwear, they are must-haves for them.
The new generation is not hesitant about buying with loan money. A recent survey across the metros done by a publication group points out that not only for major purchases like houses or vehicles but people in urban India also take loans to meet personal expenses like vacations, jewellery, household items and even clothes. For instance, six per cent of those surveyed said that they would finance a vacation on loan or buy clothes and eight per cent agreed to take a loan to buy a consumer durable.
Says 60-year old Gyanendra Prasad, "Our generation couldn't even dream of it. We abhorred the concept of credit and due to financial compulsions even if we took one, our only aim was to pay it as fast as we could. But that's not the case now. I see my son and daughter purchase almost everything on credit. It shocks and puzzles me. There's a total change of moral values."
Agrees his wife, homemaker and entrepreneur Shukla: "This generation loves to live a fast life. So, no amount of cash is enough for their sustenance. Therefore, compulsorily they need to borrow."
But his son Naresh counters, "It has nothing to do with moral values. In fact, there's nothing wrong in taking a loan if you can pay it back. I have a good job and am confident of paying back a loan. So why shouldn't I take one?"
Says Subha Munshi, a software executive working in Kolkata: "You need to live life when you are young. We are earning well. This is the prime time of our life and so we like to enjoy and spend even though on credit. We have everything that we want and are working to get them. Our generation doesn't believe in abstinence and sacrifice."
Young India is bombarded with choices today. The choice of brands to wear, cars to drive, places to study in, holidays and a huge job market throwing up careers that the previous generations only dreamt of. A reason why they are confident spenders. The same survey shows that 32 per cent youth differ with their parents in money matters. It also points out that every second youth in urban India owns a personal cell phone. They are just about getting used to good things in life be it branded goods or conveniences.
Says psychologist Paramita Deb, "Young people today are confident and epicurean in belief. They live life confidently and for the moment. They are sure of their earning potential and hence confidently function on credit unlike their previous generations."
However, these needs are often based on a false sense of social prestige or result from the desire to keep up with peers. "The social pressure often forces a man to overspend and the monthly EMI becomes too much of a strain. We deal with several cases of nervous breakdown on a routine basis."
Agrees call centre executive Sonali Sharma: "I have been feeling so dejected for the last few months. My monthly pay packet seems to be spent even before I see it. Everything is distributed to pay the EMIs. Working is no fun at all as I do not even look forward to my pay."
But then there is always the next thing to buy; the next dream that young urban India looks forward to. — TWF