Britney to tell all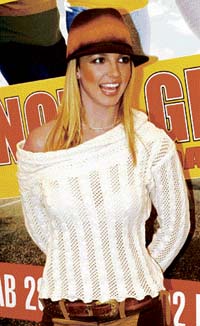 Now that her life is finally back on track, Britney Spears is reportedly planning a tell-all book in which she takes on the people who did her "wrong". According to sources, the singer is so angry with the people who let her down, that she's planning to dish the dirt on them in her book. And on her list is not only former beau Justin Timberlake, but also her two husbands —Jason Alexander and Kevin Federline.
A source revealed that Spears holds the heartbreak Timberlake caused her responsible for her problems with drugs and alcohol. "Brit blames most of her problems with drugs and alcohol on the heartache she experienced years before, during her time with Justin; she couldn't trust him. I hear she's going to say that she believes he constantly lied to her about other girls and that destroyed her self-esteem," Hollywoodrag.com quoted the insider, as saying.
She also felt he became mean towards the end of their (nearly three-year) relationship; she said he called her fat and told her she'd need to lose weight before he would have sex with her. When Justin learns about this book, he's going to be pissed," the source continued. As for her husbands, well K-Fed comes off the worse, for Britney will be reportedly be revealing how his "womanising" and "wild spending" coupled with "verbal abuse" almost drove her to commit suicide. "His womanising, his wild spending, the verbal abuse he hurled at her when he thought their marriage was coming to an end...Brit will say he deliberately tried to drive her crazy. She feels Kevin just pretended to love her for the money and a music career. When that sunk in, she was so heartbroken that she wanted to kill herself," the insider revealed.
But what is undoubtedly going to come as a shock, is the fact that Spears will also be launching an attack on her mother Lynne in the book, painting her as a "money hungry" woman riding on the singer's fame. —ANI