TELEVISTA
Viewing culinary skills
Amita Malik

I wonder how many people remember the good old days when Doordarshan featured cookery programmes in the middle of the day. It started with auntyji and mummyji in Banarsi saris with gold borders, diamonds on their fingers and with their mangal-sutra dipping into the karhi-chawal as they demonstrated exactly how it is done. Then it progressed to more professional five-star hotel cooks taking over in style. They sometimes cooked foreign dishes with ingredients beyond the reach of you and me. But they got such a vast female following that one of them, Sanjeev Kapur, left his five-star job, and ventured out on his own; some even opened restaurants, and presumably everyone lived happily after.
And now it is the turn of Page 3 and other celebrities to show off their cooking skills, while others visibly show their greed, licking their fingers after wandering around the country, extolling bazaar and other food to which they are treated free of charge. So, on NDTV, after ambassadors and their spouses demonstrate their national (to us international) dishes in fancy kitchens, we have now come down to Indian celebrities. Last week it was Minister for Women and Children Renuka Choudhary with daughter standing by,showing us how chicken curry with khoya and coriander (hara dhania to you and me) is cooked in Andhra, and how the common and garden bhindi can become esoteric with a surfeit of unlikely spices. We can expect many more professional and unprofessional women following Renukaji.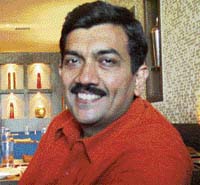 Sanjeev Kapur
However, it needed a star from the print media to give a really star twist to the matter of food and drink. Those of us who have followed Vir Sanghviís food and drink column in the national daily he edits were cheered when Discovery channelís Travel and Leisure Guide signed on Vir Sanghvi to start a programme called A Matter of Taste. Virís research,love of the subject and vast expertise on both national and international food and drinks, as so ably brought before us week after week in print, promise to be as fascinating on the small screen. The curtain raiser last week was on tea, notably Darjeeling tea. After an eye-opening session with a professional tea-taster, an awesome tribe that lets us into the secrets of Oolong and green tea, Vir travelled, predictably to Darjeeling, to let us into the secrets of the most expensive tea in the world,the famous Makai Bari. We saw how hands still matter as women steadily and surely picked the proverbial two leaves and a bud for this famous tea. And then we were let into some of the secrets by the only Bengali cowboy, Rajah Bannerjee, who inspects his garden on horseback, from where he also exchanges greetings with the men and women among the bushes and gives them instructions too. Well, by the time Vir had finished his questioning we no longer wondered why Makai Bari tea reaches such highly expensive perfection. Let me allow you into a secret. I happen to know Rajahís sister who is, surprisingly, into first-rate documentaries on TV. She once gave me a very small container, as small as a match box, of Makai Bari tea. It made me two unforgettable cups which made me realise the difference between my favourite Lopchu and Makai Bariís unique flavour. I can almost taste it still. Only one comment for my friend and colleague Vir.
He is so obsessed with wines that whenever he has to make a comparison for anything, he compares with wine. I think he went a little too far when he drew analogies from wine for even this fabulous tea. Wine is wine and tea is tea and I think there is no comparison in the best sense of the term.