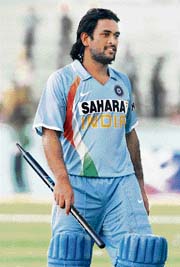 Far from ready
The inaugural Twenty20 World Championship is less than four months away, but India's jampacked schedule doesn't give the cricketers much time to prepare, writes Vikramdeep Johal
It's a great opportunity for India to atone for their World Cup fiasco, but the players don't seem to be in a position to make the most of it. The first Twenty20 World Championship, featuring 12 nations, will be held in South Africa from September 11-24. India have so far played only one Twenty20 international — in which they beat South Africa late last year — but what's worse is that they are not scheduled to play any more before the championship despite a crowded itinerary.

Mahendra Singh Dhoni's slam-bang style is best suited for the shortest version of the game. However, he and his team-mates have merely one-match experience of Twenty20 internationals. — Photo by AFP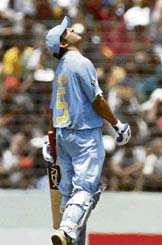 IN THE NEWS
Eye-opener
Ivninderpal Singh
Gautam Gambhir is back to the forefront. After he was dropped from the World Cup squad, Gambhir staged a wonderful comeback with a well-made ton against Bangladesh, earning his second man-of-the-match award (his first was also against Bangladesh, in 2003). His masterly innings of 101 off 113 balls silenced critics of his approach and also ensured a series win. There is every reason for both Gambhir and India to be delighted by this gutsy performance.

After being dropped from the World Cup squad, Gautam Gambhir has hit back to lay claim to the opener's slot. — Photo by AP/PTI
Watery challenge
Donald Banerjee
The Chandigarh Golf Club will have its first water hazard near the 18th green. It will also soon acquire a faster and greener carpet, says Sukhjit Singh Lehal, the new course captain.
Kashmiri girls hooked on rugby
While rugby, largely viewed as a masculine sport, is still in its nascent stage across the country, a number of Kashmiri girls are preparing themselves to become good players of the rough-and-tough game.