The Ganga is 'dying', and fast. The most revered river of the country can no longer be classified as "threatened". If the WWF report 'World's top 10 rivers at risk' is any indication, continuous water withdrawal, pollution and climate change have together created a situation of very high risk for our most famous river, reports Vibha Sharma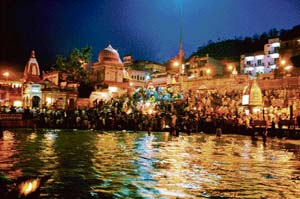 "What makes a river so restful to people is that it doesn't have any doubt—it is sure to where it is going, and it doesn't want to go anywhere else," Pulitzer prize-winning columnist Hal Boule once said. This statement, however, no longer holds true as some of the world's greatest rivers, including the Ganga, are no longer assured of reaching the sea unhindered, says the World Wide Fund for Nature (WWF).

Evening time at Har ki Pauri, Hardwar: Reverence for the river does not prevent people from polluting it

The stamp of Himachal
S.P. Sharma on the many colourful stamps and first-day covers on Himachal Pradesh
Himachal Pradesh is one of the few states in the country that has remained the favourite choice of the Postal Department while choosing different themes for issuing first day covers and stamps.
Angkor Wat: Monumental work
India, France and Japan are involved in a massive project for restoration of the Angkor Wat temples in Cambodia, reports D.B.N. Murthy
A visit to the Angkor Wat Temple complex, Siem Reap, Cambodia, in March this year was more interesting as well as encouraging than my first visit in July 2002. In 1992, UNESCO included this temple in the World Heritage list as a monument of universal value for human beings and one that is exposed to crisis too.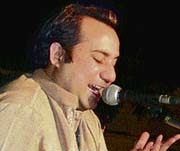 Lata, Asha inspired me — Rahat
Tomojit Bhattacharjee
Stepping into the shoes of a maestro like Ustad Nusrat Fateh Ali Khan is no mean task, but this modest young man from Pakistan is not only continuing the legacy of the legendary Sufi singer with absolute elan, he has carved a niche for himself in global music scene as well.

Rahat Fateh Ali: Following in the footsteps of his uncle, the late Nusrat Fateh Ali Khan

Toast to Raj Kapoor
A lounge in a Fagu retreat has been dedicated to Bollywood's greatest showman
Come summer and everybody loves to rush to hill stations. The cool climes of Himachal Pradesh in particular are preferred by many from the region.
Double roles in Hindi films
M.L. Dhawan
The double role is a mode of expression for actors to demonstrate their mastery over the craft. It is a challenge for an actor to display his acting skills on the screen. His conviction may or may not come across on the screen and create a grand illusion. Most of our leading stars have done double or even multiple roles at one or the other time in their career.
Loss of film heritage
Original prints of films are precious cultural treasures that need to be protected, writes Arpana
India is celebrating 60 years of independence and in these last six decades our cinema has come a long way. But the flourishing film industry remains ignorant about the importance of film preservation.
Black courage
Sarafina portrays apartheid in South Africa at its peak. It is a devastating picture of man's inhumanity to his fellow men, writes Ervell E. Menezes
Set in Soweto at the height of the white atrocities on the blacks, Sarafina is the story of a spunky black girl of the same name who is in school while her mother works as a maid in a white household in Johannesburg.