Sharing legacies & lives…
Aditi Tandon
Tribune News Service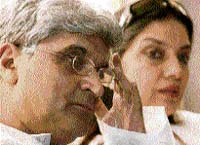 Javed Akhtar and Shabana Azmi in Chandigarh on Sunday.—Tribune photo by Vinay Malik
Chandigarh, May 20
The power couple is back with another masterful stroke. And this time their canvas seems richer than ever. Splashed with the colours of Kaifi Azmi's poetry, it reflects the many shades of life captured in his accounts by the legendary poet.
For Javed Akhtar and Shabana Azmi, who have nursed their latest venture with care, the experience has been "blissful". So it has been for those across the world who have watched "Kaifi aur Main" and woken up to an all-new Kaifi, who romanced life in many different ways - ways that were not always revealed to admirers.
In this ignorance of Kaifi's exploits lie the roots of Javed's theatrical representation of the genius. Designed as a tribute to the poet on his fourth death anniversary, the play has created ripples in the world of art.
Today it came to Chandigarh and with it came a new perspective on Kaifi Azmi, thanks to his daughter and son-in-law, who have created a unique theatrical experience to offer purely personal insights into the life of a revered public man.
"This is not a traditional play. It has different theatrical elements that vie for the audience's attention at the same time. Primarily, it is about readings of Kaifi's poetry by me and Shabana.
Most of the content comes from Kaifi's literary corpus and his interviews.
We have also taken texts from Shaukat Azmi's book on Kaifi. The book is a brilliant account of socio-political times in which Kaifi's poetic talents blossomed. Academically, it's so strong that 14 universities across the world have taken it into their courses," Javed said, while introducing the project.
Shabana was more passionate in her analysis of the play: "Of course, we wanted to present Kaifi in all his myriad splendour.
There's so much more to him than the world knows.
He was a humorist, a romantic, a socialist who spent a lifetime working in a village.
The play uses Kaifi's poetry to create powerful narratives. It's a unique production in which family comes together to share its own history."
In many ways then, "Kaifi aur Main', is a theatrical resurrection of the poet - the only one besides Tagore and Prem Chand after whom trains have been christened in India.
For the family, it's a matter of pride and this play an extension of that pride. But it has not come without challenges.
"It was taxing to read Kaifi's verses instead of directly engaging with people," said Shabana. For Javed, the real challenge was to communicate. "Even as a poet, I must say something new, something that has never been said. Although writing lyrics is my profession, I write poetry only when I feel the need to.
I am now publishing my new collection of poems called 'Lava'.
The last one, 'Tashkar', was the highest selling collection in Indian in 60 years, I was told," said Javed, who doesn't conform to the standard definitions of art and its so-called responsibility.
Artistes must have the privilege (not the responsibility) to talk about social issues, said the poet.
Shabana, for her part, agreed: "Even theatre doesn't inspire direct change. It only facilitates change," she said, priding in the brand new Bollywood that has tremendous scope for old actors.
"The best roles of my life have come in the past eight years. It's a happy time for old actors," Shabana said, her partner in life and art nodding in agreement.