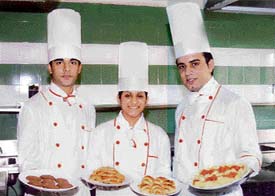 Opportunity on a PLATTER
The hospitality sector dishes out a host of options for those who can serve with a smile, says Sunit Dhawan
Remember how good you felt on getting that warm, sincere compliment on your culinary skills from a colleague of your spouse? Or the first time you tried your hands at an exotic dish for those "special" guests and it turned out so deliciously well? Well, if you have a flair for cooking and serving, the world of hospitality management beckons you to an exciting career.
Check in
The field is fit for you if you can serve with a smile; and the sky is the limit if you have that innovative bent of mind to add a little style to substance.



Course chat
Room for all
Hospitality opens the door to work opportunities of varied kinds, says Nisheeth Srivastava, Director, FHRAI Institute of Hospitality Management, Greater Noida. Excerpts from an interview: Nisheeth Srivastava


FUELLING ASPIRATIONS
Indian geologists in demand with upswing in petro sector
Anil Nair
Following an upswing in the petroleum industry in India and the need to have locally groomed experts, top oil exploration companies are looking to hire fresh graduates and starting a specialised course in the Maharaja Sayajirao University (MSU) at Vadodara.


Bits & bytes
Aptech's new curriculum
Aptech Computer Education, a leading IT education brand globally, has announced the launch of its career programme — ACCP 2007— with English Language Enhancement and Workplace Skills program.


Smart Skills
Fruits of labour
Usha Albuquerque
The cartloads of mangoes at every market across India, makes you forget the oppressive heat and dust of summer. And it's just not mangoes that bring colour to our meals, but a whole variety of fruit. Horticulture in India has come of age, with our fruits now being exported to the US too.


Career Hotline
Industrial biotech an inviting field
Pervin Malhotra
Q I have studied industrial biotechnology. Can you please elaborate upon the job opportunities in this field?.
A Considered to be the third wave of biotechnology, industrial biotechnology, has a proven track record across a range of industry sectors including paper, pulp, textiles, leather, food, animal feed, drug, diagnostic, chemical, energy, metals and minerals.