DSGMC demands arrest of Sacha Sauda head
CPM criticises Takht stand
New Delhi, May 22
The Communist Party of India (Marxist) today took umbrage to the directive passed by the Akal Takht for Punjab bandh and serving of an ultimatum to the state government to seal all assets of Dera Sacha Sauda by May 27. Meanwhile, Delhi Sikh Gurdwara Management Committee demanded that the sect chief be arrested.
'Curb violence during bandh in Punjab'
New Delhi, May 22
The Bharatiya Janata Party today described the law and order situation in Punjab as 'serious' in the light of the clashes between the Sikh community and followers of Dera Sacha Sauda and asked chief minister Parkash Sigh Badal, to ensure that peace was maintained in the state.


Rahul Singh has tough time outside TV studio
Chandigarh, May 22
Well known journalist Rahul Singh, who is son of legendary Khushwant Singh, narrowly escaped being manhandled by a group of Sikhs outside the studio of a television channel after making some candid observations at a talk show on the functioning of the SGPC and the Dera Sacha Sauda controversy.
States told to protect dera property
New Delhi, May 22
Centre today issued advisory to Haryana, Rajasthan, Jammu and Kashmir, Delhi, Maharashtra, Madhya Pradesh and Bihar to take effective measures to ensure that property of Dera Sacha Sauda was not damaged.
Spotlight on naval airport in Goa poll
Mumbai, May 22
Goa politicians are whipping up passions against the naval airport at Dabolim during the campaign for the June 2 Assembly elections. At the forefront of the campaign against relinquishing operations of civilian flights at the Dabolim airport is former Congress MP Churchill Alemao.

In video (56k)
SP demands UP Governor's sack
Lucknow, May 22
The Uttar Pradesh Vidhan Sabha today witnessed uproarious scenes as Samajwadi Party members demanded Governor T V Rajeswar's dismissal for his remarks that the previous government was "unconstitutional", forcing Speaker Sukhdeo Rajbhar to adjourn the day's proceedings.
UP debacle
BJP session in Jaipur next month
New Delhi, May 22
The recent dismal poll performance of the BJP in the Uttar Pradesh Assembly elections will be discussed threadbare at the party's national executive session in Jaipur beginning from June 15. The party leadership is at loss to comprehend the reasons for such a poor performance with its vote percentage dropping to an all time low of 18 per cent.
CPI (ML) rally against SEZs on May 25
Bangalore, May 22
The Communist Party of India (Marxist-Leninist) would hold an anti-SEZ rally in Kolkata on May 25 to extend support to people of Nandigram and Singur. The rally was to protest against the central and state governments for using the SEZ Act 2005 and Land Acquisition Act 1894 to "reverse" land reforms and initiating "corporate landlordism", CPI(ML) General Secretary Dipankar Bhattacharya, who was here to attend a convention, told reporters today.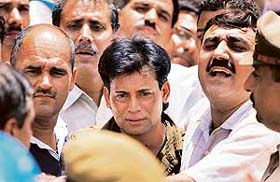 Abu Salem (centre) is escorted by police personnel as he is produced in a court in New Delhi on Tuesday. — AFP
Hasina seeks anticipatory bail
Mumbai, May 22
Hasina Parkar, the sister of fugitive mobster Dawood Ibrahim, approached a court for anticipatory bail today. Parkar, whose name figures in the FIR filed by Mumbai Police's Anti-Extortion Cell in connection with a real estate deal, has been on the run for the past few weeks.
Wage Boards
Scribes seek proposals within 18 months
New Delhi, May 22
Journalists and non-journalists today urged the government for the immediate notification of the proposed wage boards and the declaration of their recommendations within 18 months.
Dedicated airline for N-E on the cards
Guwahati, May 22
A dedicated airline is being planned for the hilly north-eastern region of the country which suffers from low connectivity as laying railways and roads is difficult here. The North Eastern Council, the regional planning body under the Department of North Eastern Region has approved a recommendation for a dedicated airline for the landlocked region.
Dharna against land acquisition
Patna, May 22
Taking a cue from West Bengal, farmers in Bihar today staged a dharna here to protest the acquisition of their land by the state government for proposed industrialisation.
Pilot killed in MiG crash
Jammu, May 22
A MiG-21 fighter aircraft of the IAF crashed in the snowbound mountains between Doda and Basantgarh in Reasi district, today, killing its pilot, Sqn Ldr P.G. Reddy.
Dalit charred to death
Yamunanagar, May 22
Tensions prevailed in Ismailpur village of Chhachhrouli block here after a dalit, Biram Pal (32), of the village died under mysterious circumstances in a mango orchard fire, today evening. Police has been deputed in the village and some members of the Gurjar community have been booked.
Case against Trehan
New Delhi, May 22
Renowned Cardiologist Naresh Trehan today landed in legal trouble as a case of trespassing and vandalism was registered against him by the police even as his standoff with the new management at Escorts hospital continued.



Videos
Train in Kolkata turns a "Ghost Train".
(56k)
Spice exports touch to an all time high.
(56k)
Shootout... runs into legal row.
(56k)