Need for speed
The members have already been informed about the time and place of the meeting. They gather in the wee-hours at an isolated roadway on the outskirts of the city. A session of thrills and spills follow, complete with the vrooming of the engines, stunts and nail-biting chase. And two hours later, the group of helmet-headed youngsters head back to their homes. The show under a cloak of secrecy is over.

For this adventurous group of bike riders, speed and safety go hand-in-hand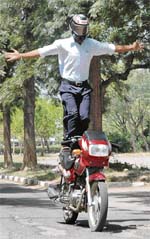 Biking Basics
Don't try to keep up with your friends who may be more experienced than you. Know your personal and machine limits.
Obey traffic rules. All it takes is a few seconds for a red signal to turn green.
Don't play with your lives by buying a cheap helmet. Maintenance and regular servicing of the bike is also very important.
Driving at night is a lot of fun, but be extra careful at night.
Treasure Trove
Passion ignited
All hobbies come at a price. But, for D. P. Sabharwal it is an investment of passion in an inexpensive hobby that rules. He finds the unusual in the mundane… Purva Grover
Be it a railway station, bus stand or the nearby local market, one can easily spot D. P. Sabharwal at the paan and cigarette shop. His favourite pick up line while talking to the paanwallah is, 'Bhaiya, zara machis dena'. Now, there is nothing unusual about it, except the fact that Sabharwal is a non-smoker.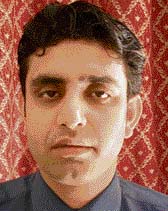 youth speak
Ajay Dewan
Inflation arouses public anger
The miseries of masses in India are escalating. Leave aside religious and political fiasco, another problem they are facing is food affordability. The problem is quite evident from the current scenario of rising prices of essential commodities like wheat, rice, pulses, edible oil, and vegetables. The basics are going way beyond the purchasing power of poor, the peasantry and the lower middle classes. One should not expect a common man to understand complex economic statistics and theories that define inflation. For him, a two-time meals a day is the most important. The inability to buy food for his family breeds anger and disdain against the state, and manifestation of such feelings are fatal for both government and affluent society.
Liquor may trigger stroke
Heavy liquor drinking may trigger a dangerous heart condition that can trip off a stroke or heart failure - but reducing alcohol consumption even a little bit makes a big difference, say British scientists.
Family business
She draws the perfect picture of sensitivity and flair. And he plays the different game of market studies and analysis. Together, painter Laila Khan and tennis player Rohit Rajpal are the perfect pair. Saurabh Malik catches up with the artistically-sporty couple as they drive into the city to expand their family business
| | |
| --- | --- |
| Silky brown highlighted tresses cascading down her fragile shoulders, cheerful eyes that compliment a mirthful smile and a gait that matches a ballet dancer's grace — why isn't she moving around the trees with a hero in a flick? That's the first though that flashes through your mind as Laila Khan sashays into a Sector 17 showroom late Wednesday evening in a glittery black top paired with denims. | He slams hard at the system. Helping his family score over rivals in the garment business after retiring from tennis, Rohit Rajpal says the country is just not in a win-win situation because of the system's failure to produce sportsmen of international standards.In the city with wife Laila for the inauguration of high-end fashion brands Chasm and Mystic Monk's flagship store, Rajpal simply says: |
SIDELANES
Joyshri Lobo
Jhalori Pass
Trails & Travails
Sacha Sauda, Deras and Punjab were totally out of our minds as we hit the road towards Jhalori Pass, Kullu district. It is just an eight-hour journey into the high Himalayas. Chandigarhians do not realise how lucky they are to be a hop, step and a jump from the cold, pristine mountains that still pack huge four-foot banks of snow near the Jhalori peaks.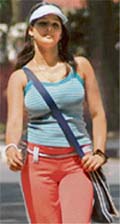 Bag-load of excitement
Saurabh Malik
Loaded with excitement the city youth are making a statement with messenger bags. And, if in the process the distinction between courier boys and under-grads is getting blurred, they are not bothered. Just in case you haven't seen them trotting down the campus with bags slinging from their shoulders, go to any coffee bar in the city and you will spot them. "The bags are fast replacing traditional backpacks," says Chetan Kumar of a Sector 11 gift and jewellery shop. There are many options for a 'back to school' look and are a must have for boys. No wonder everywhere you look, there are boys carrying these bags in cars or on macho bikes. Just in case you are wondering why all this enthusiasm about bags, here's the answer: "For guys, there are not many knick-knacks, they can either show off with expensive leather belts with broad buckles, or else by carrying style in their bags," says city-based fashion designer Neeta Kapoor. —Photo by Pradeep Tewari

Dil Se
Punjabi poet Lal Singh Dil likes to talk of his struggles but there is no room for negative emotions
Gayatri Rajwade
Reflecting on her first encounter with the spirited Punjabi poet Lal Singh Dil, she recalled how after they had spoken for a while he asked her in English, "How old are you?" She answered, "I am almost 40 Dil saab." He looked at her and replied. "You still look as if you are 28 or 29." Nirupama Dutt laughed at the memory. —Photo by Vinay Malik

Music is in his blood
Parbina Rashid
We knew that he sang, for we have heard S. S. Bhatti reciting couplets and singing ghazals for small get-togethers. But little did we imagine that he would be representing us in a cultural programme called Ghazal: Fikr-o-Fann- Performance and Exposition of the Architectonics of Urdu Poetry and Hindustani Music in Delhi. The programme is actually part of a seven-day national artists camp organised by Art Mall and India Tourism Development Corporation and Bhatti is the sole representative from the city. We know Bhatti as the former principal of Chandigarh College of Art and an artist, but as a singer? "Well, I do a little singing as art and music is in my blood," says Bhatti. And we come to know his bloodline is connected to the times of Emperor Aurangzeb.
— Photo by Pradeep Tewari

Penning social issues
Kal tha jabeen pe chaand ki, hun aaj bhi vaheen, Jo dhul saka naa waqt se main woh nishaan hun. Endowed with a vision and sensibility of a poet, Rajinder Chand, visualises life in all its manifestations, and captures the gamut of emotions in the vortex of his creations. Be it, political affairs or socio-cultural issues, nothing escapes from his discerning eye. Varied issues find eloquent expression in his ingenious works.
Rising star
She sings to her heart's content
S. D. Sharma
"Music is a living phenomenon, manifesting itself in different forms and compositions, but at the same time originating from the commonly specified music and rhythmic patterns that attribute to its universal appeal, " says young vocalist, Mamta Tandon Joshi, relying on her musical experience and triumphs abroad. — A Tribune photograph
---