Wedded to music
Aditi Tandon
Tribune News Service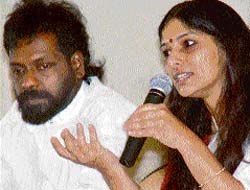 Acclaimed flautist GS Rajan (left) and his wife Anjana, a bhatarnatyam exponent, arrived in Chandigarh for a performance, scheduled for tomorrow.—Tribune photo by Manoj Mahajan
Chandigarh, May 25
When G.S. Rajan and his better half Anjana speak about music, a sense of contentment surrounds them. Trained in the Kalashetra style, evolved and perfected by Rukmini Devi Arundale, the couple is staunchly devoted to classical art. The pursuit of purity has not been easy; they have cruised along, nevertheless. And they have come a long way.
In Chandigarh on the eve of their first performance under the aegis of Pracheen Kala Kendra, the Rajans reflected with fondness on their shared history at Kalashetra, which taught them the value of restraint. For G.S. Rajan, the acclaimed Carnatic flautist who follows the Sarabha Sastri flute tradition, instruction imbibed at Kalasehtra is prized inheritance. His formal training in flute, however, began much earlier under the tutelage of G.S. Srikrishnan, his father.
Born into music literally (his mother was a vocalist), Rajan was naturally drawn to music. After picking up the nuances of Carnatic vocal music from his mother, he moved to master the elements of Sarabha Sastri tradition. "The flute, as we know, is associated with Lord Krishna, but it was Sarabha Sastri who introduced it to the concert circuit. The Carntic flute is distinct in its tone from the north Indian flute, which has six holes. Our flute has nine holes, created to facilitate the rendition of our style. Sarabha Sastri was a blind sage, whose contribution to the genre of flute is matchless," said G.S. Rajan, who later adorned his music by attempting experimental pieces. The one he did in 2005 when the Government of France offered him a fellowship to composed "Raga Symphony", was well-received.
"I made compositions for 40 musicians. It was a fine specimen of world music. I don't like to call it fusion music," said Rajan, who let go of several projects to keep his integrity intact. "I hate knocking at doors of others to get work," the flautist said, remembering his stints at music making in Hindi, Malayalam and Tamil films. Of late, he has been more committed to the productions conceived by Anjana Rajan, who has followed the Kalashetra style very devotedly.
Upbeat about the art scene in the country, especially the one featuring the illustrious Kalashetra alumni, Anjana said, "Kalashetra style has not diluted a bit, it has only evolved. In our times, going to Kalashetra was like immersing in a monastic tradition. We were not allowed to mix with men or attend concerts. It was a life full of regimentation in which the beauty of classical music and dance came alive. That beauty lingers, but the strictness of instruction has gone for the better. Times change."
For her part, Anjana has been fashioning productions around unique themes. Famous for her work on accompanying artistes, she had collaborated with G.S. Rajan in 1994 to create a piece, with music at the core and dance at the fringes. "The production was designed to celebrate the joys of music and to show that music can hold, on its own," said Anjana, who has also been active on the instruction front, having used bhatarnatyam to make the budding actors of National School of Drama dance.