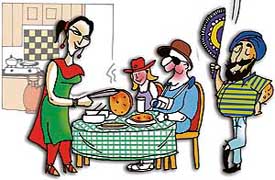 Guests are gods
Bed-n-Breakfast is not just about easy money and taking a chance but also about new experiences
Parbina Rashid
Imagine waking up in the morning and sharing a gobi ka parantha and lassi with someone from Finland or Brazil and discussing world politics sitting in your own dining room. If the idea excites you, then chances are that you will soon be doing that. Yes, we are talking about the Bed-n-Breakfast scheme the Chandigarh Administration has been busy working on these days. The advertisement announcing the scheme that appeared a couple of months ago has generated quite a response, according to Vivek Atray, Director, Tourism and Public Relations.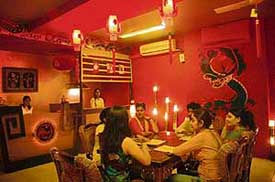 Uniquely Singapore
Saurabh Malik
This flight of fancy will take you to new heights of shopping in Singapore in the city itself. For, Inter National Institute of Fashion Design (INIFD) students have allowed their imagination to take off to create Plaza Singapore right here. Mall's the theme of the exhibition. And once there, you cannot help but pick up memories of more than just the goodies. The spectacle is simply out of this country. As you land on the institute's second floor, an "underwater" tunnel painstakingly moulded out of plastic takes you right into the world of excitement. In fact, the tunnel Jewels of the Reef is based on the concept of the Sentosa Underwater World in Singapore and showcases awe-inspiring aquatic life, including fishes, and even sharks.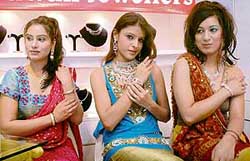 The grading game
Now, take home a European certified diamond
Diamonds may be a girl's best friend, but taking them home has always been a problem. They look cool, undoubtedly. But then, you have never been too sure of their disposition. After all, looks can be deceptive. If only there was something or someone to vouch for them.
Cool Stuff
Serve in style
LOOKING for the shine in your kitchen? Here's a chance to add style and sparkle to your dining table. FnS International Pvt Ltd. has launched a classy serving range in stainless steel. Kitchenware such as serving spoons, gravy ladles, cake servers, salad spoons and salad forks have been introduced.
Log off your anxiety
As technology makes examination results available in a jiffy, Saurabh Malik relives the moments leading to the arrival of the gazette
Ever-advancing technology's result is there for all to see. As school boards — the Central Board of Secondary Education for one — make examination results easily accessible through telephone lines and the Internet, the charm of outcome-searching has taken a backseat amidst the students.

Local film-maker Anay Goswamy's The Pocket Watch is at Cannes
He has arrived
S. D. Sharma
Despite holidays, the news brought a wave of jubilation to the Government College Arts. Anay Goswamy, a former student of the college, has won acclaim for his film The Pocket Watch at the Cannes International Film festival-2007. Anay Goswamy
Fusion is Wadali Jr's mantra
Saurabh Malik
It may sound music to your ears, but Lakhwinder Wadali — son of Puran Chand Wadali, one half of the legendary Wadali Brothers — actually likes to blend scintillating western beats with traditional Indian music.
Stuff dreams are made of
The gold rain on BIG 92.7 FM continues as part of the Sone ki Barish contest. The coin may mean different things to the lucky recipients, but what is common is the sense of joy.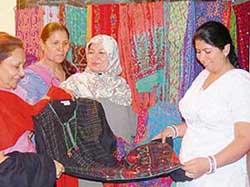 Bridging boundaries in style
Smriti Sharma
Even as high authorities of Indo Pak continue holding dialogues and talks, the women on both the sides have found a unique way to deal with the situation. Till now, we have witnessed stand up comedians making waves. Now, for the first time ever, two entrepreneurs from Pakistan and one from India are holding an exhibition together to strengthen the ties between their countries. And, what could be a better way than to do it in style. On display are sarees, salwar kameez, kurtis and dress material brought to the city by Kausar Barlas of Karachi and Parvez Bandey of Lahore. "We got a good response at the earlier exhibitions, so we decided to bring in more", avers Kausar. Belonging to a business family of Lahore, Kausar toured around the globe with her husband.
Baked to perfection
Gayatri Rajwade
Here's one wood-fired treat that is bound to appeal even to those coming in baked to a crisp by the sun! In fact, it would not be erroneous to say 'crisp' is actually the buzzword here for what good is it to bite into a robust pizza that is not crisp! But wait there is more.
BON APPETIT
Luscious koftas
Kandla Nijhowne
There's a touch of royalty when you think of koftas. It reminds one of dry fruits, creamy, rich gravies, and other forbidden ingredients, strictly avoidable for the weight-conscious! It's incredible how you can disguise the most uninspiring vegetable into an exotic kofta! As a child, I only remember ordering malai-koftas at restaurants, if any koftas were ordered at all.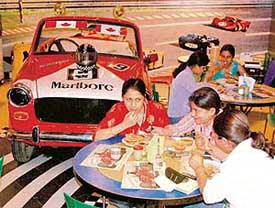 Chill-out zone
The new-age corporate canteens are a foodie's delight
Rajiv Bhatia
Corporate canteens are offering more than just scrumptious food on a platter. They are presenting business culture, and that too in style. With the influx of corporate offices with long-hour shifts, the canteens too have re-invented themselves to cater to the executive class, some of them running round the clock.
Health Peg
A drink a day, keeps a woman's heart healthy
Epidemiologists have revealed that women who regularly enjoy an alcoholic drink or two have a significantly lower risk of having a non-fatal heart attack than women who are life-time abstainers.
---