ART & LITERATURE

'ART & SOUL
ENTERTAINMENT

TELEVISION

GARDEN LIFE

NATURE

FOOD TALK

CONSUMER RIGHTS

HOLLYWOOD HUES

BRIDGE

ULTA-PULTA
EARLIER FEATURE

TRAVEL

RELATIONSHIPS

DREAM THEME

TIME OFF
The taming of the bar
The Allahabad High Court, the largest in India, has a history of many famous legal battles. It has often been described as "A court held to ransom by a crowd of unruly lawyers". Justice S.S. Sodhi, former Chief Justice of the Allahabad High Court, in his book The Other Side of Justice recalls an extraordinary case of a clash between the bar and the bench, and how the bar was made to behave. Exclusive excerpts:
AN occurrence of significant consequence for the Allahabad High Court was the action initiated by the Supreme Court for contempt of court against V.C. Misra, the chairman of the Bar Council of India.

The Allahabad High Court: The building, which took five years to construct, was inaugurated by Lord Fredrick Chelmsford in November 1916
STAR ATTRACTION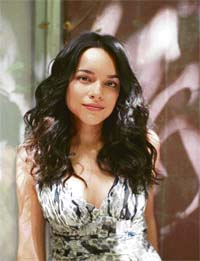 The 60th Cannes Film Festival opened on May 16 with the screening of Chinese director Wong Kar Wai's movie My Blueberry Nights, starring Norah Jones, daughter of renowned Indian musician Ravi Shankar. Jones, the latest in a long line of pop singers seeking stardom, is a reluctant actress. "I did not ever plan to be an actress", says Jones. "It was Wong Kar Wai who knocked on my door." Jones was the toast of Cannes on the opening night of the world's premier festival as she walked up the mythical red carpet alongside her director and co-star Jude Law. —PTI
Join the ivy league
Daksha Hathi
A gate of ivy for our garden will keep the heat of the sun away and give the gate a pretty, green and cream coloured ornamental design that will be the envy of neighbours and guests.
Ideal for a quiet holiday
If you haven't seen a trillion stars in the sky, relaxed your eyes on verdant scenery, heard the cry of the seagull or been with your thoughts for a while, Devbagh island on the Karnataka coast is the place to visit, writes Tanushree Podder
Karwar, the picturesque port town in Uttara Kannada district on the Karnataka coast, traces its history to the time of Arab traders. Karwar is the place that inspired RabindranathTagore to pen his first drama. With gentle waves, silver sand, a calm and peaceful ambience, Karar has all the makings of a perfect holiday destination.
Fonda has fond words for Larry King
Hollywood star Jane Fonda surprised her friend and CNN anchorman Larry King by turning up in person during a special show to honour his 50 years in the business.
No issues playing Vivek's mother: Amrita
Amrita Singh is excited about her comeback film Shootout At Lokhandwala. She talked to Vickey Lalwani at her Belscot bungalow in Lokhandwala
How did Shootout at Lokhandwala happen?
Sanjay Gupta sent me a script of his forthcoming film Dus Kahaniyan. Two days later, he called me up to say that he would rather prefer I played Vivek Oberoi's mother in Shootout At Lokhandwala. I told him I had no issues because I always believe that an actor is not determined by the age he or she portrays on screen.


Web of special effects
Whether it was Superman, Batman or Captain Marvel, it was scaling dizzy heights that gave them their persona. Hollywood knows how to anticipate and mould tastes, writes Ervell E. Menezes
Time was when (at least six decades ago) Tarzan, alias Johnny Weissmuller, swung from trees voicing his then famous cry ahaaahaaaa. The jungle was his habitat.
Each new Spider-man film must have something new, special or different, like in those James Bond films
Life imitates art
Jis Desh Mein Ganga Behti Hai, when it was released in 1961, proved Raj Kapoor's grip on the public imagination to be strong as ever. Surendra Miglani pays a tribute to the great showman on his death anniversary, which falls on June 2
When some ferocious dacoits surrendered to the police on the prompting of Loknayak Jai Prakash Narain sometime in the late 1970s, film critics and cine-goers were amazed to see how life was imitating art.
Kajol's southern splash
Bollywood actress Kajol is all set to play a lead role in a Malayalam film tentatively titled Heartbeats.
In 1996, she hit it off with the Tamil audiences with her first south Indian love story Minsarakanavu. The film, which also had dancing wizard Prabhu Deva and Arvind Swamy, was noted for Kajol's sprightly performance as well as its song sequences. The film was remade in Hindi as Sapnay.
Society
House that's actually a power-house
Believe it or not, an electrical engineer in Indore has used a large number of electrical appliances, including a big transformer for his home's interior decoration. Located in the Jawra compound in Indore, the house owned by Ramesh Aggarwal is an unusual attraction for every passerby.


Right place to lounge in
They are informal, cozy and hark back to the 1950s. The lounge bar is the current fad, reports Nutan Sehgal
The violent glam of the eighties disco gave way to the more elite pubs in the nineties. But for the hip and the happening, the haze of cigarette smoke is rapidly clearing up.

Dim lights, excellent food and great music are the hallmark of these bars
Computer that makes objects invisible
A University of Liverpool mathematician has designed a unique computer model, bringing closer to reality, making objects such as airplanes and submarines appear invisible at close range.