Antiques' lover finds unique shell
Tribune News Service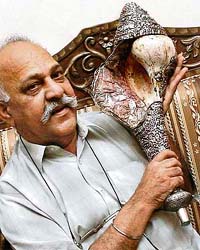 Antiques collector Ravi Bhasin with his latest possession, a silver encased conch shell, at his residence in Sector 11, Panchkula, on Sunday. — Tribune photo by Malkiat Singh
Panchkula, May 27
Ravi Bhasin, an antique collector, has added another unique piece to his treasured collection of ancient coins, artifacts, statues and metalware. This time it is a conch shell encased in silver and studded with precious gems.
"I was away to Dehra Dun where a lama woman got in touch with me. She wanted some Zee stones which I had and, in turn, was willing to exchange it for this shell. I grabbed the opportunity because this is among the rarest of the rare pieces. That lady did not know its worth and I just took it without asking any questions," he says.
A resident of Sector 11, Bhasin maintains that this is another piece added to his priceless collection valued at several lakhs of rupees. A property dealer by profession, Bhasin says he has travelled all over the world and collected antiques.
"I have never seen such a shell in my life. While most shells open rightward, this one is rare because it opens to the left. Then, it has nearly one kg silver and is a masterpiece of craftsmanship. I even gave her some money in exchange because the moment I saw it, I knew I wanted it," he said.
Ravi, one of the best known antique collectors in the region, has been suffering from renal failure for the past five years. During this period, his business collapsed and he was forced to turn his house into a curio's shop, selling antiques he had collected during his visits to different countries.
"I need at least Rs 20,000 a month for medicines alone. After my savings began to dwindle, I was forced to sell off my collection to provide for my family and pay medical bills," he says.
Several ancient watches also adorn walls of his house. Ancient manuscripts, including hand-written Ramayana and Mahabharata in Gurmukhi are among his prized possessions.