Ludhiana Calling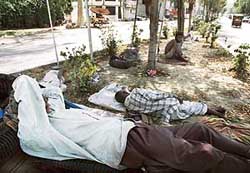 The fear of peace being sacrificed in the confrontation between Dera Sacha Sauda and Akal Takht notwithstanding, the people in the state in general and those in Ludhiana showed exceptional resolve and restraint. While the protests were organised everywhere, it was ensured that the peace was not compromised. Especially in a city like Ludhiana, which is driven by the industry and business, the fears were too serious. The business had already suffered and the industry had started feeling the pinch as migrant labourers were trying to return to their homes. As of now peace has prevailed over the provocations and it is the people who deserve all praise for it. Officers and other officials in the district and police administration also deserve due credit.
Street food
The recent order of the Delhi High Court clamping a ban on street food vendors has come as a major shock to people and vendors alike. While street and corner food joints are an integral part of life in every city of the country, in Punjab particularly their popularity is much more. While the Delhi High Court orders will have no impact on the sale of street food in Punjab, apprehensions have started growing in the minds of people and the vendors alike, lest they be asked to close down their business under similar circumstances. The spicy and tangy aloo tikki, choley-samosa, choley-bhature, golgappa and even Chinese noodles have become a habit and necessity as well. One can only hope that the street vendors in Punjab in general and Ludhiana in particular are not made to shut shop much to the dismay of people who love to have a bite.
Clumsy claims
Tall claims made by business organisations are not always true. A bank customer was quite irritated when even after several days of having asked for a certain facility from his bank by using the phone banking service, nothing was done. Much to his dismay, when he placed the order using online banking service too, nothing happened. All he could say was ,"they still have a long way to go".
Lucrative holidays
Validating their spirit of enterprise without fail, coaching centres and those providing hobby courses are engaged in vigorous activity these days with exams getting over and college students getting into holiday mood. The result is not only added revenue inflow for training providers but also for those indirectly related to the service like advertisers. Students find this the best time to improve their skills and have fun at the same time.
Heat chills business
Summer is in full glory and business is relatively mild in the city. As most residents prefer staying indoors to venturing out in sun, shopkeepers have no option but to wait for the prized customers. Another reason for reduced business is the Dera controversy due to which hotels, restaurants etc have recorded a steep decline in the number of visitors. Those in trade are only praying for better days ahead.
Gifts galore
Cash rich Ludhainavis do not miss a chance to maximise their joy by spending more. These days it is the students , whose results have just been declared, who are benefiting. For, parents are showering expensive gifts ranging from laptops, to cameras, expensive dresses and even buying holiday packages to reward their children who have scored well. It is celebration time indeed!
Mirror moves
A health freak city resident was in for a shock on viewing her image in the mirror installed in the gym she visited. The image was much broader than the reality. However, when she looked in the other one, she was in for a pleasant surprise as it showed a narrower image of hers. When queried, the gym owner had an interesting reply: The mirror that showed broader images was for men who wanted to build muscle and appear broad while the one that contracted image was for women who loved to see a slimmer image.
Pool passion
Play schools have always been organising pool parties for kids. But now the rich and famous have started hosting these in their own huge lawns. Recently, a pool party was organised for kids and moms were requested to send Rs 250 along with swimming pools, if available with them. The kids danced to the tunes of Hindi and English numbers and when they returned home in the evening, the eager moms asked what did they have in lunch? They replied a burger and a coke each!
Contributed by Vimal Sumbly, Shveta Pathak, Shivani Bhakoo