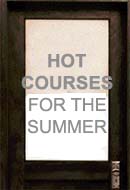 DOORWAY
to new skills
Usha Albuquerque
The summer holidays are here and that means it's time to chill! Now that you have free time for the next two months, why not enjoy with activities that work for you. Spend your time in doing things you enjoy, which also are a value addition as they improve your knowledge and skills. There are today any number of summer workshops that cater to teaching and developing all kinds of skills—be it language or communication skills, creative skills, drawing and painting even through the computer, or practical science skills.

Careercature
Sandeep Joshi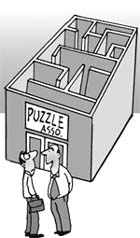 Career Hotline
Pervin Malhotra
Clues to a career in Canada
An engineering graduate from Chandigarh, Harjot Sandhu, landed in Montréal, after a short stint at a telco (telecom company) in Delhi. He got his immigration visa (Permanent Resident Status) before leaving. And the best part is, he did it himself without any help from immigration consultants!
Please send in your query, preferably on a postcard, along with your full name, complete address and academic qualifications to: Editor, Jobs and Careers, The Tribune, Sector 29, Chandigarh-160030, or at [email protected]

Virtual learning: room for all
Snehesh Alex Philip
With increased competition for jobs and the trend now being on continuous learning, more and more people are boosting their educational qualifications online. "The electronic learning market is estimated to touch $ 21 billion by the year 2008. According to our own market research and analysis, the e-learning market in India is over $ 200 million, most of which comes from in-house development. As the market matures, outsourcing of e-learning will also gain a strong hold," says Karthik K.S. of 24x7 Learning Solutions.