123 talks begin
Rajeev Sharma
Tribune News Service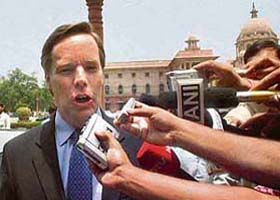 US Under Secretary of State Nicholas Burns speaks to media as he arrives for a meeting at External Affairs Ministry in New Delhi on Thursday. — PTI photo
New Delhi, May 31
Differences persisted between India and the United States and within the Government of India even as under secretary of state Nicholas Burns said today that the two sides were "nearly there" to sew up the nuclear deal that would end India's isolation in international nuclear commerce.
Burns initiated yet another tortuous round of negotiations on the 123 agreement with Indian officials led by foreign secretary Shivshankar Menon. The talks would continue over the next two days.
Before Burns plunged into talks with the Indian officials, he went on record telling reporters at South Block here that "some hard work" still had to be done. He spoke in glowing terms about the nuclear deal, saying it represented the most ambitious US proposal in 30 years that would end India's decades-long nuclear isolation.
The ground reality, however, appeared to be much different. This correspondent understands that Indian scientists, whose fears were sought to be assuaged by none other than Prime Minister Manmohan Singh some months ago, is again feeling restive.
A major concern among the detractors of the nuclear deal here is that by way of the 123 negotiations, Washington is trying to impose a non-proliferation treaty in a different guise on India by back door.
The main objective of Burns' visit to India is narrowing down differences and thrashing out a text that will be put up before the two principals -- Prime Minister Manmohan Singh and President George W Bush -- at their bilateral meeting in Germany a little more than a week hence.
The positive way of looking at the ongoing 123 negotiations is that the two governments are doing their best to finalise the agreement. The very presence of Burns here is a strong indication to that effect.
From the American point of view, the nuclear deal is only a starting point for much more substantive engagement. Washington is increasingly seeing India as a major strategic counter to China.
The Ministry of External Affairs is keeping mum on the Burns' visit. Under instructions of the Prime Minister's Office, the negotiations are being kept under wraps. There is also a strong possibility of a joint press conference by Burns and Menon on June 2, the last day of Burns' visit.
Burns today held a series of separate meetings with Menon, Prime Minister's special envoy Shyam Saran and Planning Commission deputy chairman Montek Singh Ahluwalia.