Something in common
She scripted history of sorts when Amnesty International released her book on human rights at a ceremony in Sweden. And he logged on to fame by developing a system in the UK that enables a user to command computer through his gaze. Though human rights champion-cum-lawyer Parul Sharma and computer wiz-kid Itaz Singh Virk are miles away, they are both young, successful and have their roots in and around the city. Saurabh Malik catches up with them as they bring rewards, and laurels...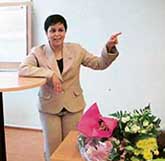 Parul, the fighter
You needn't read the title to know the hardback is on human rights and the pluralism of human existence. As the ghostly-white face on the cover, with agony in the eyes and conflict in the expression, stares back, you realise Parul Sharma has captured discords that are inherent not just in the legal system, but also human existence.As she talks about the book "Right to Life: the pluralism of human existence", the first thing that strikes you is that the Sweden-based non-resident Indian, with almost all her relatives in Chandigarh, sees the society here with rare sensitivity.
Tribune photo

Computer whiz, Itaz
Connected to ingenuity, Singh Virk has developed a control-by-eye system that enables you to interact with the computer just by looking at the monitor. All you have to do is to fix your gaze on some point on the computer screen and the system will tell the computer where you are looking.
Lone Crusader
Purva Grover
Does approval of wet dredging for Sukhna mean the end of this one man's spirited fight for a simpler solution?
"If Le Corbusier were alive, he would have been shocked and upset to see what we are doing to the Sukhna," sighs S.P. Malhotra, former engineer-in-chief of Haryana's irrigation department. Malhotra's fight for the city's man-made wonder began three years back in 2003 and seems to be now meeting a dead end with the clearance of wet dredging of Sukhna at a whopping Rs 73.51 crore.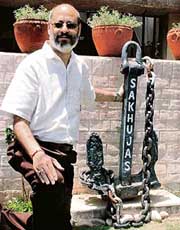 Treasure Trove
Anchoring high
Smriti Sharma
For Master mariner and anchor collector Capt Rajesh Sakhuja, an anchor instills confidence and courage
A master mariner, Capt Rajesh Sakhuja, is so much in love with his work, even his passion is an extension of his job — he collects one of the most essential parts of the vessels, the anchors. Needless to say, it was only after joining merchant navy that Rajesh fell in love with anchors but it's the thought behind collecting them that makes it all the more interesting. Photo by Vinay Malik
New releases
High budget flicks this Friday
Fool 'n' Final
Director: Ahmed Khan
Starring: Sunny Deol, Suneil Shetty, Shahid Kapoor, Viveik Oberoi, Bipasha Basu and Ayesha Takia Ahmed Khan, choreographer turned director who earlier debuted with Lakeer is ready with Fool N Final, produced by Firoz A. Nadiadwala.
BIG PICTURE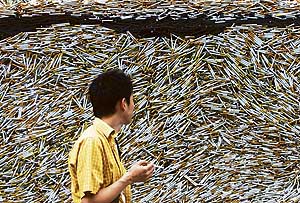 TEMPTED: This smoker can't seem to take his eyes off a pile of cigarettes. The glass art display of 10,000 cigarettes was part of a World No Tobacco Day campaign. — Photo by Reuters
A fun-filled film
Well-known for his selection of unusual, sensitive subjects, Amol Palekar has chosen yet another illustrious story for his new feature film in Hindi titled Dumkata. In his 26 years' career as a director, he has made eleven films, 5 in Marathi and 6 in Hindi.
Waking up to pajama trend
Saurabh Malik
She dresses down for the evening. Wide awake to fashion, under-grad Tahira Nayyar slips into a comfy pair of cotton pajamas before setting out to walk down the corridors of style, rather gorgeously.
Tickling the funny bone
Aarti Kandpal promises to give the men a run for their money
Smriti Sharma
She is bubbly, she is funny and her greatest plus is her spontaneity. That's Aarti Kandpal, first woman challenger on The Great Indian Laughter Challenge's Season 3. After creating a history of sorts in its first two seasons, this season seems full of 'funny' surprises.



ART ON WHEELS: Commuters walk past a Pendolino train at a London station. The train has been designed by British designer Jamie Hewlett to promote his latest opera Monkey: Journey to the West at the ongoing Manchester International Festival. — Photo by Reuters
SIDELANES
Jhalori: Men & memories
Joyshri Lobo
Chris rests his lean frame on his haunches like a true son of the soil. Even when he is on a settee, he sits in the same way. Just watching him, makes my chair- trained knees wobble. He lights up a fag and holds it like a bidi- with fore finger and thumb, not between middle and index fingers as done by the elegant and elite. And yet, he's been to the best schools, mixed with the best people and visited the world.
[email protected] lunch
Score is no longer only a nightclub. Beginning Wednesday, the lounge bar launched its lunch menu promising quality service, culinary excellence and value. Says MD Anupama Bhardwaj: "Score is perfect for business and pleasure – be it kitty party or a corporate luncheon. Foodies can choose from Indian, Chinese, Thai and continental. We also have some innovative Indian and Chinese platters and combos prepared by our expert chefs."

youth speak
Greener & cleaner tomorrow
Ankush Sharma
It is a common saying that environment reflects human nature and psyche. So what does the environment narrate about us? It discloses that man is indifferent towards nature and is leading his life running after worldly pleasures. In order to accomplish this, he doesn't mind maligning Mother Nature causing harm to her.

Divine Melody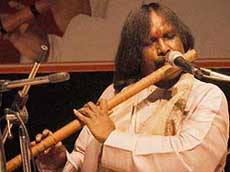 S. D. Sharma
Indian classical music is undeniably a treasure trove of Indian cultural heritage and has continued to enchant art lovers the world over, opined Rajendra Prasanna, the flute and shehnai maestro. In city, for a music concert organised by Chandigarh Sangeet Natak Akademy at Tagore theatre, he expressed optimism about the future of music and said that there is an increase in the enthusiasts of classical music and dance, especially youngsters. Photo by Pradeep Tewari
Chhote Miyan Subhaan Allah...
Talented sons of a famous father — flautist brothers Rajesh and Rishab Prasanna are emerging as the latest signatures in the realm of flute playing on the firmament of Hindustani classical music. Doyens of the famous Benaras Gharana, they are in perfect synchronisation in swar, lay, taal and bhav in jugalbandi. And that is what makes them a class apart.
Stepping over language barriers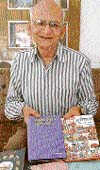 S. P. Gupta has dedicated his life towards bridging the gap between Hindi and Punjabi
Parbina Rashid
His frail hands can barely hold onto the volumes he has authored over the years. But that does not stop him from picking up the pen once again. Seventy-nine-year and many awards old, Satyapal Gupta, surprises you by telling that he is busy compiling the letters he received from famous personalities into a book form. "During my career as a writer and joint director of the Public Relations Department, Punjab, I was in touch with famous personalities like Dr Vishwa Nath Tiwari, Hazari Parsad Dwivedi, Dr S. Radhakrishnana and likes. I have a record of letters that I received from them, now I am editing those and want to present them in a book," says Gupta. Photo by Parvesh Chauhan
---