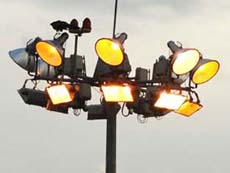 'Criminal wastage of power must stop'
Amritsar, June 1
Many city residents have expressed reservations over the practice of repair and maintenance work by Punjab State Electricity Board officials during the daytime, instead of night hours when the traffic is less and there's no wastage of power.

Many streetlights in the city are on till 7 in the morning. — A Tribune photograph

Job-oriented courses for students
Amritsar, June 1
In a bid to help the unemployed youth, Guru Nanak Dev University (GNDU) has introduced one-year job-oriented certificate and diploma courses.
A haven for exotic fruits
Amritsar, June 1
Punjab Government Progeny Orchard and Nursery, situated a stone's throw from the Indo-Pak border offers great export potential. Established by the Britishers in 1925 it is situated just 1 km away from Attari town. Spread over an area of 101.4 acres, the nursery caters to the needs of research students of Khalsa College, Amritsar.


9 snatchers netted
Amritsar, June 1 The police here recently nabbed nine snatchers who were actively involved in about a dozen cases of chain, purse and mobile snatching for the past couple years in the city.




Cops pose for a photograph with the accused in Amritsar. — A Tribune photograph
11 students from city crack IIT exam
Amritsar, June 1
It's celebration time for Harmeet Singh, Amik Singh and nine others who have qualified the IIT-JEE. Harmeet and Amik have secured 337th (highest in Amritsar) and 575th position in the country. Amik has also bagged the 25th All India Rank with state rank of two in AIEEE.


Sowing Dreams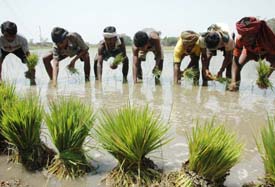 Paddy sowing is in full swing in border villages of Amritsar district. — Photo by Rajiv Sharma


It's time to chill out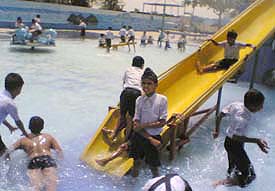 Students of MK DAV Attari beat the heat at Sun City during a Tribune sponsored event. — Photo by Rajiv Sharma
Good news for residents
Amritsar, June 1
The Punjab State Electricity Board (PSEB) has established sub-division wise centers at various places in the city to redress the grievances of the consumers. The deputy chief engineer, operations said the consumers can lodge their complaints on the following phone numbers.
Now, farmers can use laser leveller for saving water
Amritsar, June 1
The Krishi Vigyan Kendra organised a seminar-cum-field day on 'laser leveller' in collaboration with the NFL, Amritsar, at KVM farm, Usman.
Garment exhibition
Amritsar, June 1
A two-day exhibition of garments and other articles designed by the students of adult, continuing education and extension department of the Guru Nanak Dev University would be organised on June 5 and 6 at the working women hostel of the university, said Prof Subash Chander, director of the department.
Sena man rues delay in revolver licence renewal
Amritsar, June 1
Hindu Shiv Sena president Surinder Kumar Billa here on Friday alleged delay in renewal of the arms licence of his revolver, permission for which had been duly granted by the Union Home Minister.