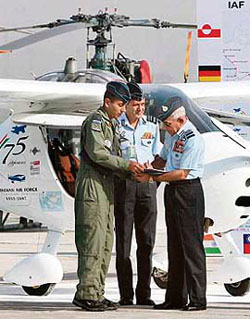 Chief of the Air Staff Homi Major (right) writes his wishes before flagging off 'Round the World Microlight Expedition' at Air Force station near Ghaziabad on Friday — PTI
Man who supplied gun to Dutt gets nine years
Mumbai, June 1
Sitting far back among the convicts, actor Sanjay Dutt today witnessed the special TADA court sentencing his one-time friend and film producer Samir Hingora to nine years' rigorous imprisonment in the 1993 Mumbai serial blasts case.
HC stays proceedings against NRN
Bangalore, June 1
In a relief to Infosys chief mentor N.R. Narayana Murthy, the Karnataka High Court today stayed for eight weeks the proceedings initiated against him by a magistrate court in connection with a criminal case filed on charges of insulting the national anthem.
Pilgrims advised to avoid trucks, bikes
Hemkund Sahib shrine opens
Dehra Dun, June 1
Pilgrims coming to pay obeisance at Hemkund Sahib, Nanak Matta and Reetha Sahib in Uttarakhand should avoid travelling in improvised double-decker trucks to ensure their safety. Groups of youths visiting these places on motor cycles are also advised to desist from the practice to avoid any accidents.
Wage Boards chief assumes office
New Delhi, June 1
Chairman of the Wage Boards for working journalists and non-working journalists of newspapers and news agencies Justice K. Narayana Kurup has assumed office. Justice Kurup heads the two Wage Boards having 10 members each. The board is to submit its report within three years.
Anand serves notice on NDTV
New Delhi, June 1
Senior advocate R.K. Anand today said he had served a legal notice seeking Rs 50 crore as damages from NDTV, accusing the news channel of defaming him by telecasting a sting operation related to the BMW case.
Firing again in Nandigram
Nandigram, June 1
Gunshots and bomb explosions were heard here today, for the second time in the past three days. But, there were no casualties.
Kanimozhi assets worth Rs 8.45 cr
Chennai, June 1
The assets of Tamil Nadu Chief Minister M. Karunanidhi's poetess daughter Kanimozhi are worth Rs 8.45 crore, according to the mandatory affidavit accompanying her nomination for the Rajya Sabha.
Nagaland CM faces rebellion
Guwahati, June 1
A crisis of dissidence has troubled the 4-year-old Democratic Alliance of Nagaland (DAN) government in Nagaland headed by the chief minister Neiphiu Rio.
Tahir Law Commission member
New Delhi, June 1
Noted legal expert and former chairman of the National Minorities Commission Tahir Mahmood was today appointed member of the Law Commission.
An 8-year-old serial killer?
Patna, June 1
He smiles and asks for a packet of biscuits from everyone asking him questions. This is the story of eight-year-old Amarjeet Sada from Musahari village of Begusarai district, who is suspected to be the youngest serial killer of Bihar.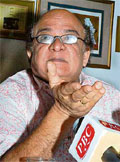 Saarc MPs' meeting begins today
Shimla, June 1
The largest and most representative congregation of parliamentarians from the SAARC countries will strive to put in place some sort of institutional mechanism to help achieve the ultimate goal of a South Asian Parliament during the two-day conference "Parliamentary Forum-II" beginning here tomorrow. The 83 delegates from eight countries representing a wide and varied spectrum of political ideologies will deliberate on core issues to further regional cooperation as mandated by the Bhurban declaration adopted at the Parliamentary Forum-I held in 2005.
Gupta panel disbanded
Lucknow, June 1
The UP cabinet today ordered the disbanding of the A.N. Gupta commission, set up by the previous Mulayam Singh government to probe into the irregularities in allotment of 1,250 plots in Noida during July 2005, putting a stamp on the government's earlier decision to order a CBI inquiry into the matter.




Videos
Taxi, Autos and bus fares revised.
(56k)
Daler sues Yashraj for Jhoom…
(56k)
Ethnic cap-making sustains life of thousands.
(56k)