Apartment debate slices Chandigarh
An ideal financial tool
J.C. Kanwar talks about the benefits of reverse mortgage
As the concept of reverse mortgage has been cleared by Finance Department, and National Housing Bank has been made a nodal agency, various commercial banks and house finance firms are about to launch this in near future. It is, therefore, appropriate to understand this unique financial tool being introduced exclusively for senior citizens so that those desirous of taking advantage of it have adequate knowledge about merits and demerits.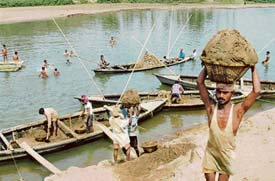 Labourers collect sand from the River Gumti at Sunamura, 70 km south of Agartala, to be used in construction sector. Foreign direct investment in India during 2006-07 stood at $16 billion and the construction and real estate sectors together received $1.45 billion out of this, according to information filed in Parliament.— AFP photo
TAX tips
Calculating tax if sale price is less than the govt notified one
By S.C. Vasudeva
Q. I intend to sell my residential house situated in Gurgaon and buy a residential flat in Mohali. The sale price on the basis of various quotations would be less than the rate notified by the state government and the stamp duty would be payable on such rates. I am informed that for the purposes of computation of capital gain that the circle rate will be taken as the rate for computing capital gain. Is the information provided correct?
GRound REALTY
Laying the slabs
Prefer steel shuttering and avoid gaps, says Jagvir Goyal
Often the shuttering provided for laying the slabs and beams of the houses is found faulty, risky and unsafe. Consequently, the slabs deflect at the centre or cracks appear in them due to leakage of slurry, settlement of supports and other multiple reasons. These defects point out towards the partial failure of slab. Here is an eight-point guideline to take control of this important activity and finish it in perfect manner:
Bovine intervention
Land has been acquired to move dairies away from the residential areas in Gurgaon, writes Ravi S. Singh
Decks have been cleared for shifting hundreds of dairies to a separate complex, outside the city limits and away from human habitat, thereby giving a chance of a better future of the residents of old city areas as well improving the aesthetic value of the surroundings.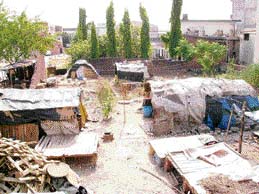 Baddi plans labour hostels
Move may address housing needs of work force, notes Ambika Sharma
With little planning and virtually no housing provision for the ever-expanding labour force in the prime industrial areas of Baddi-Barotiwala-Nalagarh, the area is transforming into an unorganised slum.
Slew of malls for tricity
Six developers vie with one another around Chandigarh to grab the first person advantage, says Ruchika M. Khanna
The City Beautiful and satellite townships of Panchkula and Mohali will see a retail (r) evolution by the end of this year. At least six mall developers are in the race to garner the "first person advantage" by opening their doors.
GREEN HOUSE
Multi-faceted bamboo
This tall grass comes in all sizes and is ideal for landscaping, says Satish Narula
The needs of plant lovers transforms with changed living conditions. Horticulturists recommend different kinds of plants suiting various locations subject to a house owner's desire.