Attack was result of battle for supremacy
Killing of youth in district courts complex
Ludhiana, June 2
The city police today claimed that the attack on two persons in the district court complex that led to the death of one and serious injuries to the other was the result of a battle for supremacy between two groups.


The three accused, who were nabbed in the district courts attack case and the murder of a youth. — Photo by I.V.
Conman who is kingpin of swindlers' gang
Mandi Ahmedgarh, June 2
The conman who is reported to have disappeared after duping three traders of lakhs by taking consignments of various products against fake drafts seems to be the kingpin of a Ludhiana-based gang that had been active in this area for many years.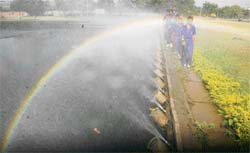 RAINBOW MARCH: Youngsters enjoy a feast of colours as rays of sun frolic with water droplets to form a rainbow in front of Central Library on the PAU campus in Ludhiana. — Photo by Sayeed Ahmed
Old Courts Complex
State set to raze yet another piece of history
Ludhiana, June 2
The state government has started demolishing buildings in the Old Courts complex spread over about 30 acres. Due to its prime location, the government expects to reap a good harvest from either the direct sale of the land or after constructing commercial buildings.
MC drive to save Budda Nullah begins
Ludhiana, June 2
Under fire for being one of the agencies polluting Budda Nullah, the Municipal Corporation (MC) today began a major cleanliness and awareness drive to prevent throwing of litter, carcasses and untreated industrial effluents in the nullah.
City Centre Scam
Hearing on Chetan's bail plea adjourned
Ludhiana, June 2
Special Judge Gurbir Singh today adjourned hearing till June 6 on the bail application filed by Chetan Gupta, a Delhi- based businessman, who was arrested in connection with the City Centre scam.


Local bodies pensioners demand redress
Ludhiana, June 2
The Local Bodies Pensioners Welfare Association urged the government to redress their long pending demands at a function here today.


Members of the Local Bodies Pensioners Welfare Association honouring chief parliamentary secretary Harish Rai Dhanda at a function in Ludhiana on Saturday. — Photo by Inderjit Verma
At the Crossroads
Reaping the golden harvest at 69
| | |
| --- | --- |
| The man,who has kept alive the memory of great Urdu poet Sahir Ludhianvi by holding poetical symposium on his birthday, is himself a short story writer. He has rubbed his shoulders, over the years, with the well-known Urdu storytellers in India and Pakistan. He has earned laudable comments on his narrative skill by Krishan Chander, Rajinder Singh Bedi, Ahmed Nadeem Qasmi, Ramanand Sagar, Inder Kumar Gujral, Gopi Chand Narang, Kashmiri Lal Zakir, Bushra Rahman, Balraj Komal, Shabana Azmi, Gulzar et al. | Dr. Kewal Dhir |
Man gets cheque for son's treatment
Khamano, June 2
Parliamentary secretary and MLA of Khanna, Bikramjeet Singh Khalsa, presented a cheque for Rs 30,000 to Nasib Singh, who needs the money for the treatment of his son, Kulbir Singh, who has been unconscious for the past two months and survives with the help of food pipes.