FOOD FOR THOUGHT
A city lives on its stomach and roadside food provides the city not only sustenance but also spirit. It sustains both those who cook it and also those who depend on its ready availability. Roadside food-sellers who cater to all sections—labourers, rickshaw-pullers, office-goers, students, travellers and visitors—are an integral part of city life. In the effort to sanitise urban life and apply BIS standards, can we afford to lose sight of the millions who depend on roadside food for their survival. Can they be wished away and their right to work be denied? Tribune correspondents from Delhi, Mumbai, Kolkata, Amritsar and Ludhiana report
"We cannot fight the government"
The recent ban on street food is bound to affect the livelihood of more than 3 lakh people, reports Vibha Sharma from Delhi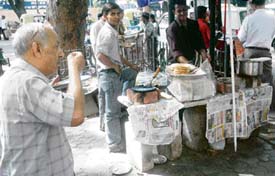 Lakhs of Delhiites patronise roadside eateries — Photo by Mukesh Aggarwal
Last month the Supreme Court gave its final approval for regulations on hawking and vending activities, which also includes a ban on roadside cooking, except serving tea and coffee. This puts a question mark on easy availability of affordable roadside food that sustains lakhs of people in the Capital everyday.
The Apex Court now wants the Corporation to ensure that the food is prepared and prepackaged from home and distributed. As far as the government is concerned, a pilot project enforcing BIS norms will soon be launched in selected cities in which standardisation, cleanliness and distribution procedures will be explained and taught to roadside vendors. In effect, it means that once the verdict is implemented, life for an average person in Delhi, including die-hard foodies who haunt famous roadside joints serving mouth-watering traditional stuff like chhole bhature, golgappas, chats, kebabs will never be the same again.
Incidentally, the SC's verdicts comes in the wake of the New Delhi Municipal Corporation (NDMC) and the Municipal Corporation of Delhi (MCD) cleanup campaign aimed at the beautification of the Capital. The authorities feel that the roadside cooking is unacceptable because it is unsafe, unhygienic and contributes to the filth in the city.
"The ban is absurd", says leading activist Madhu Kishwar who has been campaigning for rights of street vendors. She strongly feels that this is one verdict that cannot be implemented because of one simple reason—consumer demand.
"Everyone in Delhi would be affected if this ban is implemented. Tell me of a single person who says that he or she has never been to a roadside eatery. The only thing that I can think will happen if the ban is implemented is that the amount of bribe an average street vendor pays to health, MCD, police and other officials will go up," she adds.
The MCD's figure of the number of street vendors in Delhi is three lakh, but it could be anywhere between three to five lakh if all areas are taken into account. Lakhs of people, including office-goers, students, workers and labourers, tourists, travellers, besides street-food enthusiasts, are dependent on roadside eateries.
And for many it is not just about the day-to-day need of dal-roti, karhi or rajma-chawal, idli-dosas-vada-sambhar at affordable prices, it is also about savouring tastes so very particular to a place. In Chandni Chowk, the Jama Masjid , Kamla Nagar, Karol Bagh, roadside vends not only offer a sense of nostalgia, connection with the roots and old-world charm to tourists and NRIs but are also a gourmet's delight.
For Delhi, the food is as intrinsic to its soul as is the Red Fort, India Gate or the Parliament. Madhu just shoots down the argument of unhygienic conditions the food is cooked in roadside kitchens. "How will the authorities guarantee that pre-cooked and packed food packets are not contaminated and unhygienic? Are they going to import people to do that? Roadside cooking is healthier than food cooked and packed in God knows what conditions and how long back. At least on roadside the food is being cooked right in front of your eyes. It is fresher than home food, nutritious and less contaminated," she adds.
For Rakesh Gupta, who has no other option except roadside food, it means tough times ahead. "My family lives back home in Meerut. For me, the staple diet of chole-bhature and dal-roti cooked right here in front of my eyes is my idea of good and fresh food. I would not be comfortable with packed food and I cannot afford restaurants everyday".
Vendors' interest in the ban is of course related to livelihood concerns. As many as 30 per cent of the India's total number of one crore street vendors are involved in roadside food vending. For Delhi, the figure could be anywhere between three to five lakh, of which many have been running these businesses to earn a living since decades. Besides the owner, at least two to four people are involved, meaning an uncertain future for lakhs.
Ishwar Das Saini runs his chole-bhature, samosa, kachori and sabzi venture in the UGC lane at the ITO along with a dhaba, a South Indian joint and a chole-kulche joint. Saini came to Delhi with his father as a young boy way back in 1959 from Aligarh district. His father set up the shop in 1964 when "it was all so very different".
Saini opens his shop at 6 am everyday and is ready with his initial preparations by 8.30 am, the time when he gets his first customer. More than 90 per cent of his customers include regular office-goers and the other 10 per cent are travellers or visitors. Throughout the day, he and his son Amit and two helpers continue making fresh items to feed hundreds of customers till about 6 pm. After cleaning the shop, he winds up around 8 pm.
Like those in the UGC lane who largely cater to officegoers and travellers, there are more than 300 other roadside joints in and adjoining the ITO. There are three parantha joints across the Bahadur Shah Zafar Marg near the Pratap Bhawan on which thousands of those working late evenings in newspaper offices around the area depend upon.
Saini came to know of the ban through newspapers and TV channels is now waiting for "MCD officials to tell us how to go about it and what to do. Yes if the ban is implemented, my business will be severely affected as all our work depends upon frying, which cannot be done hours before serving. Who wants to eat cold bhature, samosa or kachori? But we cannot fight the government," he adds.