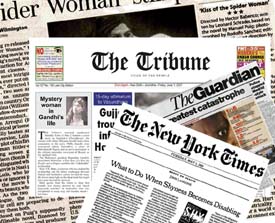 report for work
Sunit Dhawan
OF late, media has become the buzzword among the country's youth. More and more youngsters are aspiring to make their mark by joining a media organisation or starting a web portal of their own. The education sector has also responded in a befitting way by offering a vast variety of study programmes in the discipline. However, the students wishing to join the field should not only be lured by the charm and glamour attached to it as it involves a lot of grind too. They should well understand that the job of a mediaperson is quite challenging and the path to success is paved with considerable responsibility, hard work and the constant pressure of meeting deadlines.




Course chat
"Media education must evolve"
Media is a field full challenges as well as choices, says Prof B.K.Kuthiala, Chairman, Institute of Mass Communication and Media Technology, Kurukshetra University, Kurukshetra. Excerpts from an interview: Prof B.K.Kuthiala

Careercature
Sandeep Joshi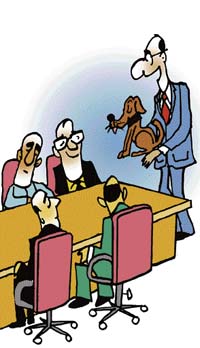 Sir, can't you find another suitable, loyal and affectionate employee for this office?

CLASS CONSCIOUSNESS
Schools to get Net-enabled
S.C. Dhall
A project called, "Catch Them Young" has been initiated by the Ministry of Human Resource Development, Government of India, which is likely to cover one lakh schools acrross the country by December, 2008. This project will be in collaboration with Bharat Sanchar Nigam Ltd. (BSNL), which will provide broadband services to all schools. These schools will be covered in four phases. BSNL will extend high-speed internet services.


Advantage Indian LPO
Cost, quality and efficient leadership are the three potent forces that would ensure greater tapping of offshored work by the country's Legal Process Outsourcing (LPO) industry.


Education loans have few takers
Continued efforts by the government to push education loans has found a few takers as less than 3 per cent students avail them due to procedural difficulties, a study has said.


Bits & bytes
Raghuram Rajan ISB Fellow
Professor Raghuram Rajan is the Academic Fellow 2007 at the Centre for Analytical Finance (CAF), Indian School of Business (ISB), Hyderabad. Every year, the ISB invites a finance researcher of the highest scholarly standing as the Academic Fellow for the year at the CAF.s


Smart Skills
SUBJECT matter
Usha Albuquerque
It is admission time, and the race for the top colleges has just begun. Shashi is just one of the thousands of students hoping to join a good Indian university. Shashi sat for 8 Pre-Medical tests, but was unable to get a seat. Now her father wants her to try for the CA course alongside B. Com (Hons). Her mother suggests she drop a year and tries for a medical seat next year, while Shashi herself is confused. With 84.75 per cent marks in Class XII, she is wondering what she can do.


Career Hotline
GRAPHIC DETAILS
Pervin Malhotra
Q I have just completed my BFA with a specialisation in Graphic Design. What are the prospects of a career in web advertising?
Engg or B-school

IT's not about marketing

Net working

Nurse your ambition

Add to your prospects