PUNJAB

HARYANA

JAMMU & KASHMIR

HIMACHAL

REGIONAL BRIEFS

NATION

OPINIONS

MAILBAG

BUSINESS

SPORTS

WORLD

ADVERTISEMENT
Friday, June 8, 2007, Chandigarh, India
Updated at 3:00 am (IST)

G-8
Pact to halve greenhouse gas emissions by 2050
Heiligendamm (Germany), June 7
The developed countries reached a broad understanding on the opening day of the G-8 summit to make substantial cuts in greenhouse gas emissions and reach a post Kyoto agreement by 2009, German Chancellor Angela Merkel announced here today. She spoke of a consensus that rises in CO2 emissions "first be stopped and then followed by substantial reductions".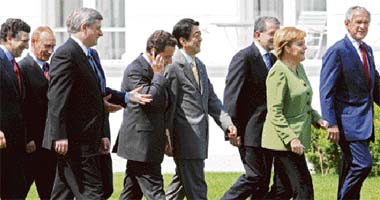 MOVING FORWARD: G8 Heads of State arrive for a family picture in front of the Kurhaus building in Heiligendamm, northeastern Germany, during their first working session on Thursday. (Left to right) European Commission president Jose Manuel Barroso, Russian President Vladimir Putin, Canadian Prime Minister Stephen Harper, British Prime Minister Tony Blair (hidden), French President Nicolas Sarkozy, Japanese Prime Minister Shinzo Abe, Italian Prime minister Romano Prodi, German Chancellor Angela Merkel and US President George W. Bush. — AFP photo
CAST YOUR VOTE
Is vice-chancellors' autonomy being eroded?



India: The Tasks Ahead
SPECIAL SUPPLEMENT
125TH ANNIVERSARY CELEBRATIONS,
INAUGURAL SESSION



CHANDIGARH

LUDHIANA

JALANDHAR
New

DELHI

HIMACHAL PLUS
New

AMRITSAR PLUS

LIFESTYLE New

BRIDES WANTED

GROOMS WANTED

OTHERS

HOW TO PLACE ADVTS

Mush Blows Cold & Hot
TV gag goes but newsmen banned from entering Parliament in Pak
Islamabad, June 7
Opening yet another front of confrontation with the media, Pakistani authorities today banned the entry of journalists to its Parliament, hours after suspending implementation of an ordinance imposing sweeping curbs on TV channels, till a committee submitted a review report on it.

PM, Hu cement ties, but mum on Arunachal
Berlin, June 7
Despite indications of China hardening its position on Arunachal Pradesh over the past few months, the issue did not figure in the interface between Prime Minister Manmohan Singh and Chinese President Hu Jintao though the two leaders reviewed the strategic partnership expressing satisfaction with the development of bilateral relations.
Nation page: PM remains inaccessible

In video (56k)

Prime Minister Manmohan Singh and President Hu Jintao of China in Berlin on Thursday.
— PTI photo

5 m tonnes of wheat to be imported
New Delhi, June 7
Days after the centre scrapped a tender to import one million tonnes of wheat, agriculture minister Sharad Pawar today said India would buy five million tonnes of the grain from overseas this year to augment buffer stock for meeting any exigencies.
ADVERTISEMENT
In Science & Technology today
HOROSCOPE

E - Revolution 2005:
A Two-day IT conclave

Assembly Elections - 2005

Turbans

Chandigarh is 50

EARLIER FEATURES

Tribune Impact
Groundwater toxicity: HR panel seeks report
Chandigarh, June 7
Taking suo motu notice of The Tribune report on lethal concentrations of arsenic in Punjab's groundwater, the Punjab State Human Rights Commission has sought a report from the state chief secretary.
Oman cyclone: 1 Indian killed, 1 Punjabi missing
New Delhi, June 7
One Indian was killed, while eight Indians, including an unidentified person from Punjab, were reported missing in the cyclone that hit Oman yesterday. The deceased has been identified as Prakash from Kerala and his body has been found.


A First By India
Biotech-based anti-rabies vaccine


Chandigarh, June 7
India has achieved a major breakthrough in preparing an anti-rabies vaccine for animals, the first of its kind in the world. The new vaccine, technically called DNA vaccine, has been prepared through the application of biotechnology.
Let's share climate responsibility: PM
June 7, 2007
Breather for Maya
June 6, 2007
Gujjars call off agitation
June 5, 2007
Pressure mounts on Vasundhara
June 4, 2007
PM calls for peace
June 3, 2007
Gujjars, Meenas clash
June 2, 2007
Gujjar trouble infects Haryana
June 1, 2007
Gurjar stir spreads
May 31, 2007
Clerics take middle path
May 30, 2007
Apology splits clergy, panthic bodies
May 29, 2007