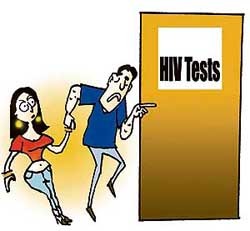 No - protection
Despite exposure to all those pregnant-with-meaning HIV-AIDS campaigns, misconceptions about the dreaded disease continue in the young minds, says Saurabh Malik
If you think Panjab University students have complete protection of knowledge for preventing dreaded diseases like HIV/AIDS, here are some grave facts: As many as 24 per cent students do not agree that infected blood can cause HIV/AIDS. Another 21 per cent cannot establish link between HIV and drugs. A whopping 35 per cent know little about the line of treatment. In fact, 15 per cent still believe the disease is curable. This is not all. All those product-launch advertisements on the television may leave you feeling unprotected against the onslaught of commercialism, yet 86 per cent students have no idea of what a female contraceptive looks like, or how it is used.

Illustration by Sandeep Joshi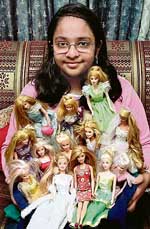 Treasure Trove
Dolly Delights
Anandita Gupta
She is a Barbie girl. Nine-year-old Karishma's room is nothing short of a Barbie house
Gulliver in Lilliput' is the kind of feeling that sinks in as you step into Karishma Aggarwal's little world. For, splashed all around this nine-year-old's room are about 100 pairs of laced-up boots, slip-ons and wedges, chic little gowns and dresses (seemingly straight off the runaways in Paris), swimsuits sporting groovy graphics, prêt purses, hats, glittering little tiaras and necklaces, soft hairbrushes, combs, mirrors and frothy shampoos. And no, this is no Lilliput Island on which Swift's Gulliver was washed after a shipwreck. Rather, it's the fairy-tale world that young Karishma has created for herself with her 50 Barbie dolls.

youth speak
We don't need no education
Bharti Bedi
Results this year have been announced. The newspapers are flooded with pictures of happy students and proud parents. Every year the student scoring highest percentage increases. What seemed impossible a few years back is now an achievable goal. The aggregate has touched as high as 98 per cent in the last couple of years. Does it mean that the quality of education is improving each year? Or is it that the young generation that has a lot of grey matter? With results like these you would expect hundreds of Einstein's around.
New releases
Thrill of romance
The Train
Director: Hasnain Hyderabadwala, Raksha Mistry
Paris sobs her eyes out
She's been in jail for three days, and Paris Hilton is already crying her eyes out. Hilton was sentenced to spend 23 days behind the bars after cops caught her driving on a suspended license. She is now spending 23 hours a day in solitary confinement in a 12x8 feet cell with a bunk bed, a toilet and wash basin. "She cries all day. She looks unwashed, she has no makeup and her hair is tangled. She cried audibly through the first two nights," said a source.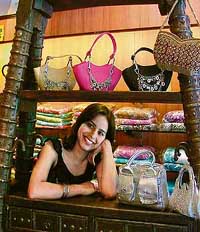 Sensual in Sparkle
Chunky purses may be the in-thing today but 'sleek and sparkling' clutches are a rage among party-hoppers. Anandita Gupta does a style check around town
Think sparkle and what flashes across the mind is the simmering sun showering sizzling sparks left and right. For, could anything be flashier than the glistening sunrays that leave us all snorting and puffing nowadays? But wait a minute before deciding on that, as the city's fashion hubs have a different story to tell. Party-purses, or clutches, to be more trend-specific are dazzling the city denizens with their glamour-studded glitter. Available in feisty hues like fuchsias, lavenders, electric blues, khaki greens, copper and bronze, besides the ever-so-sizzling silvers and golds, flashy party clutches are a rage today. What's more, clutches today refuse to restrict themselves to the usual shapes and detailing. Right from potli-shaped and sequin-studded totes to little oval-and square shaped clutches, it's all there in town. Photo by Pradeep Tewari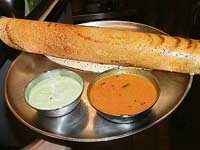 SIDELANES
A walk on the small side
Joyshri Lobo
Our lives have many blessings — if only we could enumerate and pinpoint them. They may be large or small, hidden or obvious. That they are always there is an accepted fact. They are waiting for us to find them. Deepak Chopra says that coming across these is no coincidence. They were meant to be. Buying monthly rations is a bore and chore, especially as they finish so fast. There are six mouths to feed — Mother, Oz and I, plus the two helpers and their little daughter.
Calendar fashion
Saurabh Malik
Fashion is changing on monthly basis. You may find it incredibly chic, but May's voguish stuff has already been relegated to closets, and the trashcan of memories, with fashion houses launching exclusive collection of cool summery wear for June's white heat.
Little Interview
From glamour to acting
Whether it is glamour or style, former Miss India Sayali Bhagat has been one of the most successful super models of her time. With top ramp shows in her kitty, now this model is trying her hand in acting in the much talked about The Train. Paired opposite Emraan Hashmi this flick is an emotional thriller.


Swiss art comes of age



Swiss art has not traditionally enjoyed the highest profile but in recent years prices fetched at auctions worldwide by artists from the small Alpine country, and by Ferdinand Hodler in particular, have seen an upward trend. Here, Sotheby employees hold his painting View of the Lake of Geneva from Saint-Prex at an auction preview in Geneva. The painting was sold for a record 10.9 million Swiss francs ($8.9 million) recently.

Rising Star
A voice of promise
Vocalist Sunaini Sharma on her family legacy, inspiration, love for melody, and lots more S. D. Sharma
I am indeed blessed to be a progeny of Surinder Kaur, my nani maa and Dolly Guleria, my mom. But, at the same time I consider it very challenging to sustain and retain the level of aesthetic brilliance achieved by both," says Sunaini Sharma, an accomplished vocalist and a maestro in the making. Photo by Malkit Singh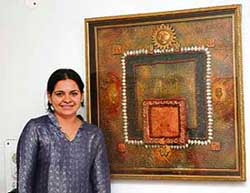 When colours speak...
Purva Grover
Twenty-six, hearing, speech-impaired, and a storehouse of talent. Meet Renuka Singh
At six, she would pester her mom to buy her a new set of pencil colours every fortnight. A few years later, she made sure her sister and brother sat down each evening and perfected a brush stroke. And, well some things never change, for today Renuka Singh (26) eagerly waits for her little cousins in summer vacations to encourage them to take up art. And just when you begin to wonder what drives this girl's love for art; she holds you by your hand and walks you down her home in Sector 8.
Photo by Manoj Mahajan
Labour of love
The horizon of children's theatre is witnessing new hues
Thespian V.K. Sharma, a pioneer in the promotion and propagation of children's theatre in India and aboard, believes that the theatre of our dreams should be capable of offering engrossing entertainment. What it presents should have meaning for the society we live in. Rightfully decorated with the National Sangeet Natak Award, Sharma is a pass out from the National School of Drama with specialization in acting (1979). He remained a member of the NSD repertory company as an actor for three years.
---