M A I N N E W S
Hisar 47.9°C; three more die
Power cuts add to the sizzle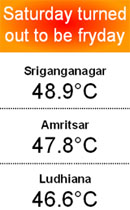 Chandigarh, June 9
Heat wave today pounded most of Punjab and Haryana, claiming three lives, as temperatures rose to record level in many years, and the Met department predicting no relief over the next two days.
Two unidentified sadhus succumbed to heat in Bathinda while a lineman of the Haryana Vidyut Prasaran Nigam, identified as Surinder Kumar (45), died due to heat wave in the Civil Hospital, Ambala.
Hisar and Amritsar were the worst hit by the unrelenting heat, which has gripped the region since the beginning of this month.
Hisar recorded a high of 47.9°C, a record seven degrees above normal and its highest in the past five years while punishing heat also prevailed in Amritsar, which saw mercury zoom to 47.8°C, eight degrees above normal.
Amritsar had never been so hot in almost past decade, Met sources said.
Oppressive heat forced Chandigarh residents to take cover as the mercury here rose to 45°C, five degrees above normal and the highest in the past over a decade, with previous highest being recorded on June 8, 1995, when it was 45.6°C.
People in Ludhiana (46.6°C, six above normal), Patiala (45.7°C, up five), Ambala (44.5°C, up five) and Karnal (45°C, up five than normal) too braved the brunt of the scorching conditions, registering record highs in past few years.
The Met forecast means people will not hope to get any immediate relief from the heat wave, which is likely to continue in the region over the next two days, with hot strong winds blowing during the day.
Meanwhile, misery of the people of Punjab and Haryana has also been compounded with scheduled and unscheduled power cuts, which have been reported from places including Gurgaon, Rohtak, Ambala, Sonepat, Yamunanagar and Ludhiana, Jalandhar, Pathankot and Ropar.
Lucknow: The searing heat wave showed no signs of relenting in Uttar Pradesh, claiming 23 lives in the past 24 hours. In Delhi the mercury rose to season's new high of 44.9°C. — PTI, UNI