Touching account of love
Aparna Sen's new film in English, The Japanese Wife, marks several firsts for the director. Sen will shoot the film in virgin areas of the Sundarbans and it will have an international canvas, writes Shoma A. Chatterji
A modern fairy tale" is the bottom line of Aparna Sen's new film The Japanese Wife, based on a novel of the same name authored by Kunal Basu who, besides writing, teaches management at Oxford. The film marks several firsts for Aparna Sen. For the first time, she is making a film based on someone else's work. She has shot in a foreign locale, Japan, for the first time. For the first time, she has chosen a foreign actress, Chigusa Takaku to play the title role. For the first time, Aparna Sen will shoot a film in virgin areas of the Sundarbans, offering a landscape most of us have never seen before. Last, but not the least, Rahul Bose is portraying an important role consecutively for the third Aparna Sen film. FTII graduate Anway Goswami is cinematographing the film while Joysree Dasgupta, a noted singer, is designing the costumes. Among others in the cast are Rudraneel Ghosh and Kunal Bose (the author). Producers Saregama have put up a Rs 15 lakh set a 150-feet distance away from the Eastern Bypass in Kolkata.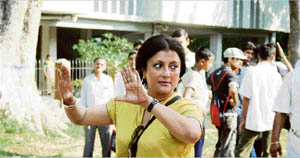 (Top) Aparna Sen directs The Japanese Wife; Raima Sen, Aparna Sen and Rahul Bose on the sets of the film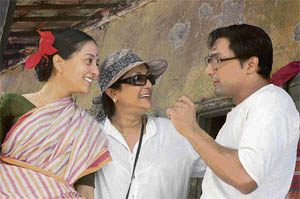 The story is a touching account of love between Snehamoy (Rahul Bose), a humble schoolteacher in the Sundarbans and Miyagi (Chigusa Takaku), a Japanese girl. They fall in love through correspondence and even get married without ever having set eyes on each other. Raima Sen is a pretty young girl, while Moushumi Chatterjee plays Snehamoy's mashi (maternal aunt) who has brought him up like her own son. When asked why she is not acting in her own film, Sen says, "I do not like to act these days, specially in my own film unless there is no way out. In Paromitar Ek Din, I did play one of the two female leads because that is what my producers had insisted on. I am more popular as a director than as an actress."
Aparna Sen has established the practice of holding theatre workshops before she begins shooting. These workshops are conducted by Sohag Sen, a noted theatre person in Kolkata. "Every film needs a different treatment. That is not hard to design. But this time, I was a bit uncertain about the city-bred Rahul Bose and Raima Sen because they were cast in characters that live on the fringes of the Sundarbans. But being excellent actors ever willing to learn, I found it a cakewalk, thanks to their sensitivity and their willingness to soak in every bit of training they can," informs Sohag.
The film is being shot in English though there will also be a smattering of Bangla and Japanese because of the international canvas of the film. Rahul however, does not agree with the love theory. "Where do you find love in Snehamoy's life, tell me? You need a woman to fall in love with. Snehamoy has her mashi hovering around him. He has his pen friend Miyagi, a girl he has never met, in far away Japan. He has this continuous correspondence with Miyagi. And there is this marriage conducted only via letters. Where is the love you are looking for in all this? I love to work under the directorial baton of Aparna. I get totally involved in whatever I am doing at any given moment, be it rugby or my welfare work with the poor children of Andamans. Snehamoy, on the other hand, is an escapist. He is not even prepared to fight life's battles. He is aware of the rat race across the river on the other side. He feels safer on this side, the Sundarbans." He concedes that Snehamoy is the most complex character he has played in his career. "My choice of Rahul for three of my films in a row is because I can deconstruct him completely and mould him differently in any which way I can. Few actors have this kind of malleability. According to me, this is purely a love story from beginning to end because there is no ideological agenda or political baggage I am carrying, like there was in Parama, Sati and Mr & Mrs Iyer. The character Raima is portraying, that of a young village widow, is the quiet type, silent and sad most of the time. Raima has done an excellent job," says Aparna.
"Aparna is a wonderful director. I acted with her in a Bengali film, Kodi Diye Kinlaam, eight years ago. The Japanese Wife is a welcome change because I am working under her directorial baton for the first time. Her being an actress herself gives her an edge over other directors who have never been actors," says Moushumi. "The most difficult task for me was to try and learn and then perfect the accented Bengali spoken by Bengalis who live in the Sundarbans."