Style on Call
Swish shapes wed luxe couture. The needles of young, city-based designers are fast spewing out oodles of sizzling style and more.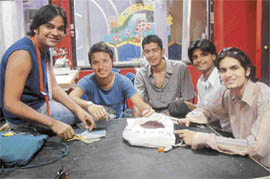 Remember the times when we would scrounge in the family vault for perking up our oh-so-boring outfits? Year after year, we'd take out the comfort clothing stashed in our bed boxes and glam it up with invaluable finds from grandma's closet. Style hence, could never go beyond multi-strand necklaces and antique ornaments paired with dungarees. Not any more. For, the city-based chic designers have changed it all.
Kiddies' tele fiesta
Come holidays and most kids are glued to telly screens 24x7. No doubt, this is the time when the TRPs of kids' shows shoot up. Swati Sharma finds out what's caught their fancy.
So you thought the saas-bahu brigade was still topping the TRP charts? Well, vying closely with the scheming vamps of these serials are the tele-serials for kids.
First Day First Show

The Train: A perfect thriller
Extra-marital affairs have become quite common these days The Train looks at the dark side of this issue. The film has the tagline — Some Line Should Never Be Crossed completely gels with the hero's role in the flick. Inspired, from the Hollywood's Derailed and Bollywood's Bezubaan, it is an unusual romantic thriller. The film has beautiful visuals and good storyline. The twists-n-turns in the screenplay keep the viewers guessing.
Write to Renee
I am a 32-year-old guy, considered handsome by everyone except my girlfriend who seems to think I am of no consequence. Each time we go out to a party together she is very critical of my clothes and my general appearance.
Toon Tamasha
Cartoon characters are moving out of the silver screen on to products used liberally not just by kids.
Let there be no illusions. Larger than life cartoon characters are filling the lives of so many youngsters with animated laughter after hopping from the silver screen into the real world.
Midas touch


Make June's sizzling sun envious by possessing your own sparkling, gold-plated cell phone
Bespoke pieces may be the bling-bling brigade's latest fashion statement, but luxury-lovers in town can now flaunt high-end style, without visiting their designer. All you have to do is shell out Rs 63,299 and get hold of Nokia's limited edition '8800 Sirocco Gold.' It's expensive, yes, but who says luxury ever comes cheap?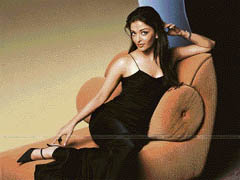 Ash all the way
The bonds of matrimony have obviously not succeeded in reducing her popularity to ashes. Still the hot favourite among cine buffs across the country, Aishwarya Rai Bachchan has been crowned the Most Searched Personality on "www.in.msn.com" at the International Indian Film Academy Awards ceremony at Yorkshire, England.
Matka chowk
Luggage brotherhood
Sreedhara Bhasin
However much we hear the phrase – "people are the same all over," we really don't believe it! We talk about how the Indians are so unruly, the Germans are so regimented, the Americans are so hung up on size and the French on beauty.

Little Interview
Roles mean more to her
Her mantra has been simple from Day 1 — focus on the banner and roles, money can wait. And she is known to slash her price if the role means more to model, beauty queen and actress Aarti Chhabria.




Doll with a soul
The waves have long receded but Tsunamika, the little girl born of the devastation of the December 26 Tsunami, lives on as a symbol of enduring hope, building lives wherever she goes.
Tsunamika, the little doll created after the Tsunami by Upasana Design Studio (UDS) at Auroville (Puducherry), was not an 'idea' that grew overnight.


Photos by Parvesh Chauhan
Hallo Aloe!
Wisdom comes when you are least expecting it. This is the bottom-line of the story of S. K. Aggarwal and his obsession with Aloe Vera — the wonder herb. It took an American team to wake him up to discover the usefulness of this herb.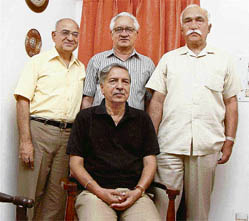 Helping merit shine
Ex-servicemen are helping meritorious students from economically weaker sections fulfill their dreams.
Every parent dreams of the best education for their child in the hope of a better future. But in this highly materialised world, not everybody can afford it. To overcome this glitch The Society for Meritorious Students has taken the charge and is flying successfully leaving behind a trail of their achievements which is inspiring others as well.