PUNJAB

HARYANA

JAMMU & KASHMIR

HIMACHAL

REGIONAL BRIEFS

NATION

OPINIONS

MAILBAG

BUSINESS

SPORTS

WORLD

ADVERTISEMENT
Monday, June 11, 2007, Chandigarh, India
Updated at 3:00 am (IST)

2 die as Grain Market roof caves in
Army helps in rescue and relief at Grain Market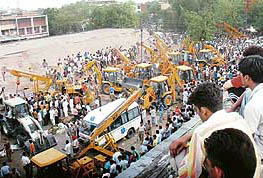 Chandigarh, June 10
Two persons were killed and two others seriously injured when a concrete roof collapsed in the Sector 26 Grain Market, here, this evening.
A view of the relief and rescue operation at the Sector 26 Grain Market in Chandigarh on Sunday. ó Tribune photo by Pradeep Tewari



Admin ignored warning and more stories on Chandigarh page
Land-grab
Chahal held with four relatives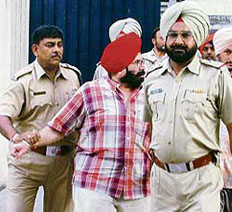 Ludhiana, June 10
The Ludhiana urban police today arrested B.I.S. Chahal, the high- profile ex-media adviser to Capt Amarinder Singh, along with four other relatives, in a seven-month- old alleged land-grab case today.
B.I.S. Chahal being whisked away by the Ludhiana police from the Vigilance office in Ludhiana on Sunday. ó Photo by Inderjeet Verma

CAST YOUR VOTE
Will outsourcing to India increase following the US immigration bill's defeat?



India: The Tasks Ahead
SPECIAL SUPPLEMENT
125TH ANNIVERSARY CELEBRATIONS,
INAUGURAL SESSION



ADVERTISEMENT

CHANDIGARH

LUDHIANA

JALANDHAR
New

DELHI

HIMACHAL PLUS
New

AMRITSAR PLUS

LIFESTYLE New

BRIDES WANTED

GROOMS WANTED

OTHERS

HOW TO PLACE ADVTS

Arrest victory for SAD-BJP government


Amarinderís kin questioned

ĎProbe before booking public servantsí
Amritsar, June 10
Advocate-General of Punjab H.S. Mattewal said yesterday that Chief Minister Parkash Singh Badal had given instructions to all legal agencies and the police to conduct a preliminary inquiry before registering cases against public servants so that it did not smack of vendetta or mala fide intention.
Oman Cyclone
2 Punjabis among 4 more dead
New Delhi, June 10
Four more Indians have died in the devastating cyclone that hit Oman early this week, taking the toll of Indians to six even as six others remain missing.

| | |
| --- | --- |
| | PUNJAB: Amarinderís kin questioned |
| | HARYANA: Death toll five, magisterial probe ordered |
| | HIMACHAL: Officers under scrutiny, says Dhumal |
| | |
| | CHANDIGARH: UT administration ignored warning |

E - Revolution 2005:
A Two-day IT conclave

Assembly Elections - 2005

Turbans

Chandigarh is 50

EARLIER FEATURES
Relief from heat in sight
New Delhi, June 10
The Meteorological Office has predicted that there will be relief from the scorching heat wave from June 12. As per IMD director S.C. Bhan, there will be a distinctive improvement in the prevailing heat wave conditions on June 13, followed by a period of three to four days when the temperature will remain within the bearable range.


In video (56k) North India reels under heat wave.
Nadal wins French Open
Paris: Rafael Nadal destroyed Roger Federerís historic Grand Slam dream for another year by capturing his third successive French Open today. The Spaniardís 6-3, 4-6, 6-3, 6-4 victory emulated the great Bjorn Borgís record of three Roland Garros titles in a row. (Details on Sports page)

Number of Chinese visitors zooms
New Delhi, June 10
China is emerging as a major East Asian tourist source market for India, with visitors from the country registering a whopping increase of 31.6 per cent in 2005 at 44,897 visitors, on the back of a 61 per cent rise in arrivals in 2004 (34,100) against the previous yearís (21,152).


HOROSCOPE

Hisar 47.9įC; three more die
June 10, 2007

Hopes soar for civil nuke deal
June 9, 2007
Pact to halve greenhouse gas emissions by 2050
June 8, 2007
Letís share climate responsibility: PM
June 7, 2007
Breather for Maya
June 6, 2007
Gujjars call off agitation
June 5, 2007
Pressure mounts on Vasundhara
June 4, 2007
PM calls for peace
June 3, 2007
Gujjars, Meenas clash
June 2, 2007
Gujjar trouble infects Haryana
June 1, 2007
Gurjar stir spreads
May 31, 2007