| | | |
| --- | --- | --- |
| | HIMACHAL PRADESH | |

Shimla
Mahila Shakti: Revenue minister Sat Mahajan said despite the fact that the 73rd Constitutional Amendment ensured representation of women in panchayati raj institutions (PRI), their active participation was yet to be achieved. Speaking at the inauguration of a two-day conference of the core committee constituted under the Mahila Shakti Abhiyan at the HP Institute of Public Administration, Mashobra, on Friday, he said "The core committee after deliberations will prepare an agenda for the zonal-level workshops of elected women of PRIs to be held at Kangra, Shimla and Mandi divisions," he said.
Bilaspur
One killed, 11 hurt: Rattan Sen Kashyap (50) was killed on the spot when a car (DL-1VB-1393) fell into a gorge near Dhar Kanshi on the Chandigarh-Manali road early in the morning. Six others of the family of the deceased were injured seriously while the car driver escaped unhurt. The body has been brought here for a post-mortem. The police has registered a case. In another accident near Baner, a mini bus overturned, injuring 11 of the 19 occupants. The mini bus was carrying members of a family of Sahidanwali Colony, Mahilpur, Punjab, to Manikaran.
Kangra
22 hurt in mishap: Twentytwo passengers were injured, four of them seriously, when a private bus coming from Palampur to Kangra dashed against the fence near Malan, 20 km from here, on Saturday and rolled into a 30-foot gorge, the police said here. The seriously injured passengers were shifted to Dr. R.P. Govt. Medical College Hospital, Dharamsala. A case has been registered.
Chamba
Trader killed: The district veopar mandal has condoled the death of trader Rishi Jaiswal, who was killed when his scooter collided with a private vehicle at Bakani, about 18 km from here, on the Chamba-Bharmour road on Saturday. Jaiswal succumbed to his injuries at the regional hospital here.
Dalhousie
Leopard kills 3: A leopard prowling in the Diur and Singhadhar panchayats of Churah subdivision has in the past few days killed three persons, including a child and two women, besides sheep and goats. Anil Kumar(11) was killed by the leopard on June 4. Residents of these areas have urged the state government to declare the leopard as a 'man-eater' and kill it.
Solan
3rd anniversary: Tributes were paid to a Kargil war martyr Sikander Singh by Kasauli MLA Raghu Raj on the occasion of his eight death anniversary at Bohli village on Sunday. Paying tributes to the soldier at a function organised at Government High School, Bohli, he lauded Sikander's bravery. He announced a grant for the construction of an additional room in the Bohli high school.
Annual function: Hamirpur MP P.K.Dhumal on Sunday lauded the local people for maintaining harmonious ties. Dhumal, who was here to attend the annual function of the Kangra-Hamirpur Maitri Sabha, said it was imperative to ensure a conflict-free society where the cultural heritage was kept alive. Baldev Sharma, MLA from Nadauta, lauded the sabha for having initiated the construction of a building here and extended a donation of Rs 2,100 for the purpose.

Striking POSTURES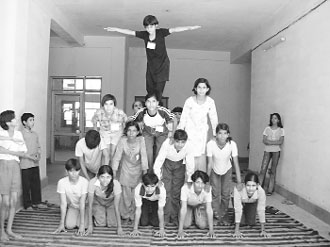 Girls participate in a yoga camp at MKJK College, Rohtak.
With a view to motivating the girl students of Haryana to recognise and tap their potential to the fullest, a week-long, character building-cum-yoga camp was organised at MKJK College, Rohtak, recently.
Nearly 1,200 girls from different parts of the state participated in the camp, organised jointly by the Mahila Samta Manch and Sarvdeshik Arya Yuvak Parishad.
Inaugurating it, the vice-chairperson of the Haryana Child Welfare Council, Asha Hooda, observed that yoga was an ancient way of life which helped us recognise and tap our inner strength.
Exhorting the girls to maintain their self-respect, she asserted that education was a must to achieve women's empowerment. She expressed concern over the rising incidence of female foeticide and promised her whole-hearted support to any endeavour for curbing the menace.
"The ideology of Swami Dayanand regarding girl education is relevant even today," Hooda said, adding that education could serve as a means to check women's exploitation. Earlier, the college principal, Krishna Chaudhary, welcomed the chief guest.
Batons, beats and books




Dr Dalbir Bharti
An IPS officer of the Maharashtra cadre hailing from Hisar, Dr Dalbir Bharti, recently published his second book entitled, "Police and People—Role and Responsibilities." The book drives home the point that the maintenance of public order and the fight against crime can be much more easier and effective if the police and the public develop mutual trust.
Dr Bharti stresses that though the police was initially created by the State as a "force" with coercive powers, it has now evolved into a "service' to help the public. A firm believer in community policing, he emphasises the importance of people's participation.
His first book, "The Constitution and Criminal Justice Administration," was primarily based on his thesis for Ph. D. Both books have attracted rave reviews.
Though he is a permanent resident of Hisar, he originally hails from Ban Mandori village, now in Fatehabad district. He is currently posted at Nagpur as DIG, CRPF. A graduate from Panjab University, Chandigarh, he did his Master's in Political Science from Kurukshetra University and joined the IPS in 1987. He has served as Superintendent of Police in several districts in Maharashtra.
 He did his LL.B and doctorate while serving in the IPS. He has set up the Bharti Education and Development Society, which runs a library and reading room each in Hisar and his ancestral village. The society provides interest-free loans to poor students for pursuing professional courses.
Contributed by Sunit Dhawan and Raman Mohan