M A I N N E W S
Book on Sunita awaits her return
Gayatri Rajwade
Tribune News Service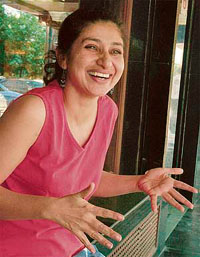 Aradhika Sharma, who has written a book on Sunita Williams. — Tribune photo by Vinay Malik
Chandigarh, June 11
The protagonist of this book is sitting in space but that has not deterred a city-based writer from dashing off a biography with the protagonist's support!
Aradhika Sharma's book on Sunita Williams is near completion. She is waiting for Sunita to come back to earth, literally, before completing the last chapter and sending it off to publishers - Rupa and Co.
And, according to the author, it all happened "just like that".
While toying with the idea of writing a book, Aradhika found this biography falling into her lap. The brief was clear. The publishers needed the book within a month and no, they could not help her with where she could find the material for it!
"I was told, get in touch with her and here I am thinking how do I communicate with someone sitting in a space station above the earth!" laughs Aradhika. Having said yes "blithely", the panic set in thereafter.
Aradhika called her friend Capt Srineevas Seshadri, a businessman in Chennai, and requested him to co-author the book with her.
The search for clues and contacts began. "Sunita's parents are in the USA, the family's relatives are somewhere in Gujarat and Sunita was out of bounds, we did not know where to start," says Aradhika.
So they started to beg, plead and cajole everyone they knew to find a chink in the armour of space. After many manoeuvrings, a friend called to say that he had got Sunita's father, Deepak Pandya's 'official' e-mail ID.
The work had just begun. Pandya, as it turned out, was not in town for six months so there was no question of opening a line of communication.
"We realised there was only www (worldwide web) that we were now dependant on," smiles Aradhika. The two writers 'Googled' their heads off, wrote the book and sent off this "soulless" piece of work to the publishers.
It is then, that the mail arrived. "We are very happy and excited about this," wrote Pandya and the mad scramble began once again.
The written book was withdrawn, a whole set of questions and queries prepared and sent off to the family. But there was no long wait from here on. The very next day Aradhika and Seshadri received 30 pages of information from Sunita's sister Dina, mother Bonny and her father.
"We rewrote the whole book. This happened only last month," says Aradhika.
And then the unbelievable happened. Sunita wrote to Aradhika and Seshadri on June 5 from space giving inputs on the preface that she had received from her sister!
"She has a dog, Gorky, whom she adores and we had mentioned that in the preface. She wanted us to also add the names of all her pets, historical animals down the ages of her life," smiles the still startled author.
As for the woman, Aradhika is amazed at the spirit Sunita encompasses. "She is an icon. She is really strong and focused. What is more I have never come across a family like hers. They are very supportive of her, are big achievers themselves and have rooted her while given her wings to fly."
The final chapter waits and on June 19, when the lady returns to earth, the book will finally be completed.
As for Aradhika, who not only works for a dotcom company in the city but is also an 'agony aunt' for a website, the next book is already churning in her brain.