'Shastri should be coach-cum-manager'
Amritsar, June 12
Member parliament, Navjot Singh Sidhu, strongly favoured the selection of Ravi Shastri as a team management expert and coach today. Former Cricketer turned commentator and politician while talking to the tribune said he had played a lot of cricket with Ravi Shastri who is presently working as manager of the Indian cricket team.
Economics needs to be made more interesting: Experts
Amritsar, June 12
Teachers should keep their knowledge on economic developments at the national and international levels updated and duly share it with their students so as to make the subject more meaningful and interesting.
45 trained to set up handicraft units
Amritsar, June 12
Forty five candidates have completed skill development training programme for the promotion of handicraft units in the district under Science and Technology Entrepreneurship Development (STED) project of the Department of Science and Technology, Government of India. These candidates have been trained to set up handicraft units in rural areas of the district.
Sports equipment worth Rs 2 cr to be distributed
Amritsar, June 12
The state government has chalked out a plan to promote sports at the grassroots level by distributing sports equipment worth Rs 2 crore among coaching centres, sports wings and sports academies throughout the state.





Punjab sports minister Gujar Singh Ranike hands over sports meterial to the district sports officer in Amritsar on Tuesday.—Photo by Rajiv Sharma

City boy fulfils grandfather's dream
Amritsar, June 12
Akrit Mohan Sharma of the holy city has bagged the first position in Punjab in the NDA (IAF flying branch) after clearing the pilot aptitude battery test with all-India rank of 40. Jubilant over the achievement, Akrit said it was a proud moment for him as he had been able to fulfil the dream of his grandfather late Roop Lal Sharma, former headmaster of PBN School, who wanted him to become a pilot. But unfortunately he had expired only few weeks ago, he added.
Mom-son show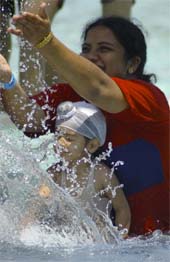 With mercury at a steady 40 degree plus, a large number of people are thronging amusement and water parks in Amritsar. —Photo by Rajiv Sharma
Experts' meet on polio eradication
Amritsar, June 12
The Indian Association of Preventive and Social Medicine, Punjab chapter organised a CME on polio update at Government Medical College here. More than 100 delegates participated.
PNB to focus on rural areas
Amritsar, June 12
Punjab National Bank is the largest bank in East Asia in terms of its connectivity with more than 2,600 branches, which are centrally connected, providing anywhere, anytime banking. N.C. Jain, who took over as the general manager, Punjab, North Zone of Punjab National Bank claimed today.
Exhibition attracts visitors
Amritsar, June 12
Lovers of Rajasthani outfits and hand paintings are enjoying a wide range to choose from at the exhibition put up by Govind Hath Kargha Vastra Sahkari Samiti Limited and Cooperative Society being held at the Art Gallery at Madan Mohan Malviya Road.
Power cuts add to misery of residents
Amritsar, June 12
When the day Amritsar hit the headlines with the highest temperature in 10 years at 47.8 degrees Celsius on June 9, residents of a cluster of colonies on the Batala road had to spend a sleepless night without power supply. Noisy generators could hardly provide relief and inverters soon ran out of charge before the power resumed in the wee hours.

A resident buys ice from a vendor as his refrigerator remains non-functional due to long power cuts. —Photo by Rajiv Sharma
City lad bags MAMC best all-rounder tag
Amritsar, June 12
Davinder Bir Singh Pannu, an MBBS student (Intern) from Maulana Azad Medical College (MAMC) New Delhi has made the city proud when he was awarded all round best student during five years course and was honored with rolling trophy by the Delhi health minister during a function in the college. President of the students union MAMC for the year 2006-07, he was also awarded with best male model DIVA, 05 MAMC and also headed the volleyball team and played basketball for the college besides being the member of the Bhangra team.