Chini Zyada
Sanjay Bumbroo
With the international bio-fuels forum comprising five major consumers of fossil fuels —USA, China, Brazil, S. Africa, the European Commission and India— having joined hands to develop, produce and promote the use of bio-fuels, there is great scope for the students who opt for B.Tech in Sugar and Alcohol Technology.

Careercature
Sandeep Joshi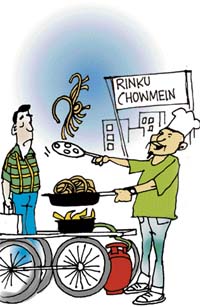 I am luckier than my batchmates. After postgraduation, I visited China and Japan and started my own business.

Obstacles are opportunities
I.M. Soni
Determination, hard work and initiative have more to do with success than circumstances and the initial advantages of birth and family background. These sometimes hinder rather than help. Disadvantages can be a powerful source of effort. Sir Patrick Hastings, a famous British legal luminary, has said that poverty was the greatest advantage his father had bequeathed upon him.

BLIND FAITH
IT companies' vision for visually impaired
Sangeetha G
As part of their special responsibilities, the Information Technology industry in India is slowly opening its eyes towards the visually challenged by offering them jobs, training and even taking up infrastructural modifications to accommodate them.

Put your best you forward
Julia Feldmeier
Trouble talking yourself up in the workplace? Here are a few tips from experts to help you position yourself for success — without sounding arrogant: List, and review, your accomplishments. When applying for a job — or aiming to get assigned to that hot new project your company is tackling--make a list of the requirements. Then make another list, this one of your best accomplishments, and highlight everything that relates to the assignment.

4 Indian students make it to Biology Olympiad
Four Indian students have been selected for the International Biology Olympiad beginning in Canada this week. Out of the total 15,000 contestants across the country, four were selected by the Indian National Biology Olympiad (INBO), National coordinator Vijay Singh said in New Delhi on Tuesday.

Scholarship for engg
The University of Wales Bangor (UK) is offering eight 100 per cent scholarships to overseas post graduate research students. This offer is specifically for students into Electronic Engineering research (Optoelectronics, Organic Electronics, Nanoelectronics, Bioelectronics, Lab-on-chip, etc). The students' fees will be paid in full for 3 years and living expenses in the region of £3,000 to £5,000 per annum for 3 years will also be made available by the department.

IIT-M to set up centre of excellence
The Indian Institute of Technology-Madras will create a centre of excellence to train off-highway design engineers, with financial assistance from a US company. The Centre will be called Caterpillar Centre of Excellence for off-highway engineering and would come under the Department of Engineering Design, IIT.

Coimbatore college ties up with Kyrgyz varsity
An Indo-Kyrgyz IT Research and Training Centre is to be established in Bishkek, Kyrgyz Republic, under a memorandum of mutual understanding signed between city-based Sri Shakthi Institute of Engineering and Technology and Kyrgyz State Technical University.

Software testing promises jobs to non-IT graduates
Software Testing industry in India is poised to grow leaps and bounds, promising well-paid jobs to thousands of young graduates, including those without an Information Technology background. With India becoming a software development hub and the industry becoming more quality conscious, the sector has witnessed a huge growth in the last few years, according to industry insiders.

When the office happy hour isn't that
Amy Joyce
Who knew "happy hour" could be such a misnomer? A young professional wrote in during a recent online chat, saying that the big non-profit group where he or she is employed often has large, long happy hours after work. "I'm not a big drinker, but there is often a lot of pressure to come with them, and people make comments if I duck out after only a couple of drinks," this person wrote. "Recently, a co-worker talked to me about how people who don't go out after work get 'a reputation.' ... How would you suggest I handle this?"

Smart Skills
Appetising avenues
Usha Albuquerque
Enjoy tossing a salad, decorating a cake or experimenting with a new exotic dish? If so, you can create your own recipe for success – with a career in the culinary arts. Today, with the boom in the number of hotels and eateries in the country, there is a huge shortage of chefs, and those qualified in culinary skills, baking, restaurant and pastry arts, and other related fields. According to the demand, analysts predict that the shortage in the culinary field is expected to reach 12 million in the next couple of years.