PUNJAB

HARYANA

JAMMU & KASHMIR

HIMACHAL

REGIONAL BRIEFS

NATION

OPINIONS

MAILBAG

BUSINESS

SPORTS

WORLD

ADVERTISEMENT
Thursday, June 14, 2007, Chandigarh, India
Updated at 3:00 am (IST)

Congress in Prez jam
New Delhi, June 13
Caught in a dilemma with the Left expressing reservations about the candidature of union home minister Shivraj Patil, currently a frontrunner for the high office of President, emergency consultations are under way with Tamil Nadu Chief Minister and DMK supremo M Karunanidhi calling on Prime Minister Manmohan Singh.

Pranab denies being candidate


D-day: July 19
Nation page


2-3 names discussed, says Karunanidhi


Tough battle for July-19 poll


Graphic: The Big Fights till now

Indian grounds passengers

23 employees suspended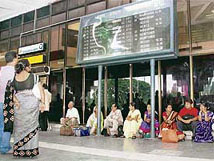 New Delhi, June 13
The operations of public sector air carrier Indian were severely disrupted across the country today after more than 12,000 employees of the airline went on a flash strike last night demanding better wages.
Passengers stranded at Netaji Subhas International Airport, Kolkata, on Wednesday due to strike by thousands of baggage handlers, check-in staff and other employees of Indian. — PTI photo

CAST YOUR VOTE
Is the inconvenience caused by strikes justified?



India: The Tasks Ahead
SPECIAL SUPPLEMENT
125TH ANNIVERSARY CELEBRATIONS,
INAUGURAL SESSION
ADVERTISEMENT

CHANDIGARH

LUDHIANA

JALANDHAR
New

DELHI

HIMACHAL PLUS
New

AMRITSAR PLUS

LIFESTYLE New

BRIDES WANTED

GROOMS WANTED

OTHERS

HOW TO PLACE ADVTS

Trafficking
US warns India, calls for swift action
The USA says India has the world's largest human trafficking problem, but, for the fourth consecutive year, it left its ally off a blacklist of nations seen not meeting the minimum standards in fighting the problem of what Washington calls "modern-day slavery."
India is safe, no political asylum in Britain, please
Chandigarh, June 13
Anyone from Punjab seeking political asylum in Great Britain will in all probability be sent back, says Sir Michael Arthur, British high commissioner to India, maintaining India is safe and a friendly country.
HC asks EC to act against Jaya
Chennai, June 13
The Madras High Court today held that prima facie there was sufficient material on record to take action against AIADMK supremo J. Jayalalithaa for filing false declaration before the electoral authorities.

Dimpa gives up
Beas/Baba Bakala, June 13
Former Congress MLA Jasbir Singh Dimpa, who had been declared a proclaimed offender by the court in two cases, today surrendered at the Beas police station.
| | |
| --- | --- |
| | |
| | HARYANA: Power breeds politics |
| | HIMACHAL: New police chiefs for Hamirpur, Kangra |
| | J&K: Villagers block road |
| | CHANDIGARH: Not down the drain |

E - Revolution 2005:
A Two-day IT conclave

Assembly Elections - 2005

Turbans

Chandigarh is 50

EARLIER FEATURES
City Centre Scam
Rs 100 crore collected for AICC, PPCC: Petition
New Delhi, June 13
In a startling disclosure made in Special Leave Petition moved in the Supreme Court today by the Punjab government, challenging the anticipatory bail to former minister Jagjit Singh in the Ludhiana City Centre scam, it has been alleged that at least Rs 100 crore was collected from the project for payment to All India Congress Committee and Punjab Pradesh Congress Committee.
Tribune Impact
Ludhiana boy finds feet in Chennai
Chennai, June 13
The scars on his face tell a tragic, yet courageous, tale. On October 5 last year, Prabhdeep Singh (19), a Ludhiana resident, was involved in a tragic car accident.
Monsoon hits Kolkata, 15 killed
Kolkata, June 13
On the first day of the monsoon, accompanied by heavy showers, cyclone and thunderstorm, lashed the city today along with the other south Bengal districts during which at least 15 persons, including children, were killed.
Bush robbed? Not on my watch!
Tirana, June 13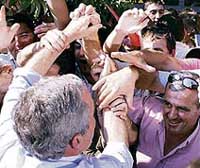 Reports that President George W. Bush had his wristwatch stolen while shaking hands with Albanians on his weekend visit are false, Albanian police and the US embassy said Tuesday.
Bush glad-handled in Albania. — Reuters photo

HOROSCOPE

Mayawati goes UPA way
June 13, 2007
Prez battle hots up
June 12, 2007
2 die as Grain Market roof caves in
June 11, 2007

Hisar 47.9°C; three more die
June 10, 2007

Hopes soar for civil nuke deal
June 9, 2007
Pact to halve greenhouse gas emissions by 2050
June 8, 2007
Let's share climate responsibility: PM
June 7, 2007
Breather for Maya
June 6, 2007
Gujjars call off agitation
June 5, 2007
Pressure mounts on Vasundhara
June 4, 2007