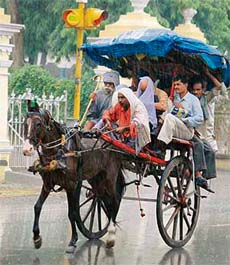 After a sizzling spell of weather, people enjoy the heavy showers that hit Allahabad on Thursday. — Reuters
Presidential Poll
Asom Gana Parishad fends for Kalam
Guwahati, June 14
The regional Asom Gana Parishad has decided to root for the re-election of president Dr A P J Abdul Kalam during the June 18-Chennai conference of the Third Front comprising eight regional parties.
Presidential Candidate
After days of stalemate, decision taken in hours
New Delhi, June 14
After days of stalemate, it was a decision taken in hours. The candidature of Pratibha Devisingh Patil as the UPA's candidate for the presidential poll caused quite a surprise in the political circles as it was a name that was nowhere on the horizon until yesterday.
Pratibha feels honoured
Jaipur, June 14
Rajasthan Governor Pratibha Patil tonight said she felt honoured on being chosen as UPA-Left combine's Presidential nominee and that the selection of a woman would send a "very good message" to the world that women were respected in India.
Pratibha's Profile
New Delhi, June 14
A veteran Congress leader with wide experience in the party and government, Pratibha Devisingh Patil is the only woman among present governors and could be the first woman President of the country.
Vajpayee rebuffs PM, Sonia
New Delhi, June 14
Prime Minister Manmohan Singh and Congress chief Sonia Gandhi tonight spoke to senior BJP leader Atal Bihari Vajpayee on phone seeking the NDA's support for the UPA's choice of Presidential nominee Pratibha Patil, but were rebuffed by the Opposition leader, who said the Opposition alliance had its own candidate.
Samajwadi Party office raided
Lucknow, June 14
Indirectly targeting senior Samajwadi Party leader and former urban development minister Mohammad Azam Khan, the Rampur police today raided the SP district office after receiving information about the distribution of blankets and sewing machines purchased under the District Urban Development Agency funds from the party office.
Third front not viable: CPI
Chennai, June 14
Questioning the secular credentials of the AIADMK and the TDP, which have mooted the idea of a third front at the national level, the CPI today said it was not a viable alternative.
WB Cabinet okays Rs 5,000-cr metro project
Kolkata, June 14
The West Bengal government at its Cabinet meeting today formally approved the Rs 5,000-crore project for connecting Salt Lake City with the Howrah Station through the underground railways.
Court's no to narco test on Vanzara
Ahmedabad, June 14
A local court today rejected Gujarat CID's application seeking narco-analysis test of six policemen, including IPS officer D G Vanzara, accused in the Soharabuddin Sheikh fake encounter case. Metropoliton judge K.J. Upadhyay rejected the CID application.
Katara denied bail
New Delhi, June 14
Suspended BJP MP Babubhai Katara, main accused in a human trafficking case, was today denied bail by a city court. Rejecting bail application of Katara, additional chief metropolitan magistrate Kamini Lau said if persons belonging to the high status in life, particularly those who are law-framers, showed scant regard to the laws of the country and become law-breakers, then such violators were required to be dealt with sternly.
Setback for treaty over Bhutanese refugees
Kolkata, June 14
The Indo-Nepal border treaties suffered a setback over the fate of some 10,000 Bhutanese refugees, who had been pushed out of Nepal but were now assembling in the Indo-Nepal border areas in north Bengal, awaiting their rehabilitation in West Bengal.
Kannadiga activists upset over release of non-Kannada films in Karnataka
Protest over 'Sivaji' release at film chamber
Bangalore, June 14
Who have earlier successfully enforced a delay in the screening of non-Kannada movies in Karnataka, have now decided to target the Karnataka Film Chamber of Commerce for allowing the release of Tamil superstar Rajnikant's movie 'Sivaji' in the state tomorrow.
Governor's Golf from June 16
Dehra Dun , June 14
The major highlight of Governor's Cup Golf Tournament 2007 being organised by Raj Bhawan Golf Club at Raj Bhawan Golf Course, Nainital from June 16, is the rating accorded to this heritage golf course by Indian Golfer's Union (IGU), the apex body of the game in India. The recognition has put this event on the national golf calendar.
55 children still missing in Patna
Patna, June 14
Children in Bihar are the most vulnerable section as the cases of abductions have predominantly increased during the past few years. According to an official report, the capital city had witnessed 265 cases of child abductions between 2001 and 2007. Fifty-five of them are still missing.
Suspended MLA's land allotment cancelled
Jaipur, June 14
To keep dissident voices at bay, the ruling BJP government has cancelled the allotment of agricultural land of suspended Gujjar MLA Prahlad Gunjal, who dared to go against Chief Minister Vasundhara Raje during the week-long Gujjar agitation.
Mamata flays Buddha's stand
Kolkata, June 14
The Trinamool Congress has rubbished the West Bengal government's argument that land taken from unwilling farmers in Singur for a Tata Motors' project cannot be returned and said the matter can be sorted out if there is political will to do so.
Gandhi's grandson cremated
New Delhi, June 14
The body of Mahatma Gandhi's grandson and noted writer-philosopher Ramchandra Gandhi, who died here yesterday, was consigned to the flames this morning with several writers, relatives and well-wishers in attendance.



Videos
'Marigold', Salman's ticket to H'wood.
(56k)
A toddler swims four meters in record attempt.
(56k)