PUNJAB

HARYANA

JAMMU & KASHMIR

HIMACHAL

REGIONAL BRIEFS

NATION

OPINIONS

MAILBAG

BUSINESS

SPORTS

WORLD
ADVERTISEMENT
Saturday, June 16, 2007, Chandigarh, India
Updated at 3:00 am (IST)

Barnala in race for V-P's post
Give Chahal notice before arrest: Court
Chandigarh, June 15
In an order of mixed blessings for B.I.S. Chahal, the Punjab and Haryana High Court today granted him protection against arrest in future cases by the Punjab Police, but rejected his plea of transfer of probe into the land-grab case to the CBI.



Games and all that



One-day police custody
Bridge collapses
Sujanpur, June 15
More than six villages were disconnected when a bridge on the Beas Canal in Kala Chhak village collapsed early this morning. As many as 12 farmers and morning strollers had a miraculous escape, when the bridge linking Kala Chhak and Falakpur villages with Padyalali, Mudde, Nihalpur and Chhajehli villages collapsed at about 8 am. Details on Punjab page
CAST YOUR VOTE
Is the inconvenience caused by strikes justified?



India: The Tasks Ahead
SPECIAL SUPPLEMENT
125TH ANNIVERSARY CELEBRATIONS,
INAUGURAL SESSION


ADVERTISEMENT

CHANDIGARH

LUDHIANA

JALANDHAR
New

DELHI

HIMACHAL PLUS
New

AMRITSAR PLUS

LIFESTYLE New

BRIDES WANTED

GROOMS WANTED

OTHERS

HOW TO PLACE ADVTS
In Real Estate today

Rajnikant's cut-outs awash in milk, and pujas
Bangalore, June 15
Tamil superstar Rajnikant starrer 'Sivaji-The Boss' was released without any untoward incident in Karnataka even as Kannadiga activists held peaceful protests outside theatres screening the film in Bangalore. The police intervened to arrest 50 activists who were trying to prevent the screening of the movie in Bellary.
Fans of Tamil super star Rajnikant celebrate the release of his movie "Sivaji" by pouring milk and flowers at a hoarding in Bangalore on Friday. — PTI
Violence erupts in Nandigram again
Kolkata, June 15
Violence erupted in Nandigram again today when there was a free exchange of firing, brick-bats and bomb-throwing between two groups belonging to the CPM and the Trinamool Congress-led Krishia Bachaoo Committee.
In Amritsar Plus today
In Sports Tribune today

E - Revolution 2005:
A Two-day IT conclave

Assembly Elections - 2005

Turbans

Chandigarh is 50

EARLIER FEATURES
Knighthood for Rushdie
London, June 15
Controversial India-born author Salman Rushdie, whose "Satanic Verses" earned the ire of the clergy in Iran, and England's cricket legend Ian Botham will be knighted in the Queen's Birthday Honours tomorrow. — PTI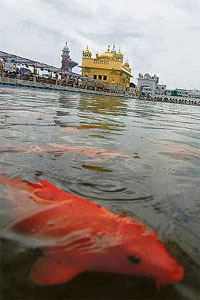 Even the fish seem to enjoy it: Fish swim in the holy sarovar of the Golden Temple in Amritsar after a brief spell of rain on Friday. The temperature had reached a high of 47.6° C earlier in the city. — AFP



Rain cools Punjab
Quattrocchi case
CBI presentation incomplete, says Argentine court
Buenos Aires, June 15
An Argentine lower court in its detailed order for denying extradition of Italian businessman Ottavio Quattrocchi, an accused in the Bofors kickback case, to India has said that the CBI's request was not backed by ample judicial documents.
US Dy Secy of State meets Kasuri
US deputy secretary of state, John Negroponte flew into Islamabad for talks with top Pakistani leaders amid indication of a nuanced shift in US stance on Gen. Musharraf's dual role in politics and plans for re-election.
US court ruling on tax may cost India $37 million
The U.S. Supreme Court on Thursday ruled that New York City can take India to court for not paying taxes on a property it owns in Manhattan. The city claims the Indian government owes $37 million in interest and unpaid property taxes for the building housing the Permanent Mission of India to the United Nations. At the centre of the dispute is the 26-floor, red granite building designed by Charles Correa, a prominent Indian architect.
In Saturday Extra today
HOROSCOPE

It's Pratibha Patil
June 15, 2007

Congress in Prez jam
June 14, 2007

Mayawati goes UPA way
June 13, 2007

Prez battle hots up
June 12, 2007

2 die as Grain Market roof caves in
June 11, 2007


Hisar 47.9°C; three more die
June 10, 2007

Hopes soar for civil nuke deal
June 9, 2007
Pact to halve greenhouse gas emissions by 2050
June 8, 2007
Let's share climate responsibility: PM
June 7, 2007
Breather for Maya
June 6, 2007