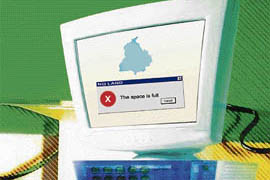 IT scouts for realty
Information technology revolution, which started with a roar in Punjab has ended with a whimper owing to shortage of land, notes Chitleen K. Sethi
And here is where the story of Information Technology revolution in Punjab seems to have ended. IT remained Punjab Government's buzzword for five years and was projected as the biggest achievement of the Congress in the state.
…elsewhere, Karnataka tries to retain industry with land offers
The Karnataka government is offering land and other incentives to investors to set up IT firms in smaller towns and cities beyond Bangalore in a bid to ensure that the state remains a prime destination in the knowledge sector.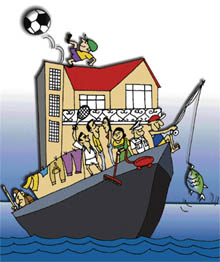 A house on high seas
Bored of living in palatial bungalows and posh apartments and want something unique? Cheer up as you may soon have the option of 'buying' a house on the seas. A leading hotel chain has announced the sales launch of the residential vessel, offering 112 fully-owned private homes with options of one to four bedrooms. With price tag starting with a whopping $3.8 million, the 48,600-ton, 719-foot luxury vessel, the Four Seasons Ocean Residence, will feature almost all amenities and luxuries that one can think of.

Illustration by Sandeep Joshi
TAX tips
Possession, not registry, decides rental tax issues
Q. I acquired a house property for a sum of Rs 45 lakh. I paid the full consideration in terms of an agreement to sell and have taken the possession of the said property. However, the sale deed is yet to be registered on account of some legal formalities required to be complied.
Look beyond the glass facade
Architects and realtors argue on eco-friendly aspect of glass buildings, says Snehesh Alex Philip
As the country faces acute power shortage and global warming debate hots up, energy conservationists caution against growing number of buildings with glass façades dotting the landscapes of cities as being responsible for energy consumption much in excess a normal structure would do.

Estate talk
Ride not smooth for infrastructure sector players
Indian infrastructure sector presents contradiction of sorts. Though the government projects a total fund flow of $456 billion in the 11th Plan (2007-12) to boost the country's infrastructure, yet the sector faces some inherent hassles. Rafi Qadar Khan
GROUND REALITY
Steel deal
Jagvir Goyal provides tips on how to lend strength to buildings
The activity of cutting steel bars to required lengths, bending them in required shapes and then laying them in a correct manner always weighs heavily on the minds of a house builder.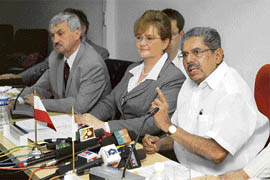 Union Minister of Overseas Indian Affairs Vayalar Ravi and Labour Minister of Poland Anna Kalata speak at a press conference in New Delhi. Indian construction workers might well be heading to Poland after the two countries signed a memorandum of understanding. Ravi said signing a pact with Poland will streamline migration of labour from India to Poland. — PTI
A channel dedicated to realty
Real Estate TV, the country's first 24-hour premium TV Channel dedicated completely to the real estate, will be launched in July.
Announcing this in Bangalore, channel promoter Manoj Namburu, CMD, Alliance Group, a Rs 4,400-crore enterprise, said though the channel was promoted by the Alliance Group, it was "of and for the real estate sector" at large.
Buzz on Bourses
Indiabulls deal with Zublin
Mumbai: In order to tap the booming construction sector, Europe's leading infrastructure group, Strabag SE, has joined hands with Indiabulls Real Estate Ltd for working on large development projects in the country.